You Too Can Design a Thing: A Scrappy Guide to Simple and Low-Cost DIY Design
Session Type(s): Training
Training Tag(s): Experienced Online Organizing
Starts: Saturday, Aug. 15 11:00 AM (Eastern)
Ends: Saturday, Aug. 15 11:50 AM (Eastern)
Design can be intimidating, expensive, outsourced, or boring—but it doesn't have to be. We're two mostly self-taught designers who learned how to make the most of the tools that were available to us. We draw inspiration from everywhere to create eye-catching designs for political campaigns, nonprofits, advocacy, and more. This is our quick andn dirty how-to, with a focus on design for social media and digital organizing. Get ready to learn how to design content that resonates and drives action, basic design principles and tips for inclusive design, how to create an inspiration bank, and where to find free or low-cost tools.
Trainers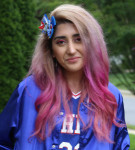 I'm the creative director for the Democratic Governors Association and have spent most of my career helping elect governors with GPSImpact and the PA Dems. Being at the DGA has been such a rewarding experience. Started learning design when I was in fifth grade because I wanted to impress all the other kids playing Neopets, and it just became a passion from there. Years later, when I was a field organizer for State Rep. Ryan Bizzarro's re-elect, I took over design for him too. It's been a wild and rewarding ride. My hobby (and only personality trait, really) is being a Philadelphia 76ers fan. I helped start the Mike Scott Hive, and it's a feel-good story if you ever have time to check it out.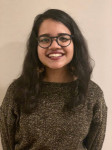 I'm a designer and digital organizer at EMILY's List. I get to bring together my interests in art, digital, organizing, and progressive politics during this truly wild and historic moment. Growing up as an immigrant kid in the suburbs, I didn't have a lot of political efficacy. But now I work in politics in Washington DC. I'm inspired by the organizers, freedom fighters, and artists of past and present who envision a more just world. In my free time, I like sharing good food with friends and family, organizing around immigrant justice and mutual aid, and admiring the flowering trees in my neighborhood.