Worker Safety in the Food Supply Chain
Session Type(s): Panel
Starts: Thursday, Aug. 13 12:00 PM (Eastern)
Ends: Thursday, Aug. 13 12:50 PM (Eastern)
Teamsters represent nearly 500,000 workers at every level of the food chain—from meat and dairy processing, packing, transportation and delivery, to the country's largest breweries, bakeries, soft drink companies and grocery chains. The union fears a resurgence of COVID-19 could put the food supply on the brink of collapse. In order to protect food workers, both union and nonunion, and the country's food supply chain, the Teamsters are calling for enhanced safety measures at all food facilities and demanding protections. In this panel, we will look at what the government must do to ensure the country's essential workforce can be kept safe and well.
This panel is sponsored by the Teamsters.
Moderator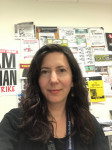 I work as a strategist, writer and editor at the Teamsters in Washington, DC.
Panelists
James started working for United Parcel Service in 1990 where he served as a Steward for 12 years and a Chief Steward for 5.  He is a second generation Teamster.  Before being elected President in 2016, he was Vice-President of Local 667.
James says that "Teamster blue is in my blood" and with the passion and desire he has, he looks forward to leading Local 667 in a new direction.  Community involvement, aggressive organizing and professional structure are just a few of the goals he has set to achieve within in coming years.