Using Time-tested Tactics to Evaluate and Boost Your Organizing
Session Type(s): Training
Training Tag(s): Basic Online Organizing
Starts: Saturday, Aug. 15 12:00 PM (Eastern)
Ends: Saturday, Aug. 15 12:50 PM (Eastern)
It's no secret that organizing is hard work. Talking with people, creating relationships, and building leaders is what has, and will continue to, advance our movement. We're at a pivotal moment where we know the importance of high-attention, short-term events like elections, voter registration pushes, and Census outreach. Our challenge is molding these moments into long-term power building opportunities for our communities. This training will cover the basics of the "leaderful" organizing model—including assessments, one-on-ones and more—and how to bring them all together into an effective, power-building organizing program that identifies and develops leaders to help scale progressive movements.
Trainers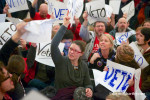 Liz has been an organizer in the labor movement since 2011. She cut her teeth at SEIU Healthcare Michigan, organizing homecare workers to fight back against Right to Work legislation and pass Medicaid expansion.
Liz then transitioned to hospital organizing with the Michigan Nurses Association. She has won campaigns against both regional not-for-profits and multinational corporations, helping to bolster the Michigan labor movement with over 2,000 new members. Liz now supports organizing efforts throughout the country as a trainer and Action Builder campaign strategist, based in Washington, D.C.
Liz is a proud alum of Michigan State University and has a passion for applying her yoga practice and teaching in service of the social justice movement.