Session Type(s): Training
Training Tag(s): Grassroots Organizing/Campaigns
Starts: Friday, Aug. 14 4:00 PM (Eastern)
Ends: Friday, Aug. 14 4:50 PM (Eastern)
What is the most important concern you'd like to see addressed? That is the first question we ask voters at the door. In the 2018 cycle, For Our Future and For Our Future Action Fund knocked on more than 10 million doors and had more than 1.5 million conversations with voters across 7 states. Before asking traditional questions like "Who are you supporting for this race," canvassers are listening to the voters and collecting data from those conversations. The data we've gathered across 400,000+ conversations covering 90 different issues helps us better build relationships with voters and understand the communities in which we work. We'll walk through our methodology and findings here.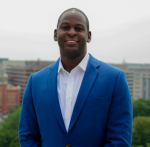 Justin Myers is the CEO of For Our Future and For Our Future Action Fund, the largest, permanent progressive field program across seven states: FL, MI, NV, OH, PA, VA, and WI. Along with community partners, the groups organize all-year-long around issues, legislative advocacy, and campaigns to win elections and help build the lasting power needed to improve people's lives. In 2018, Justin oversaw the organization's contribution to sweeping electoral progress, including campaigns to restore voting rights to 1.4 million Floridians, expand Medicaid coverage to 400,000 in Virginia, and the pickup of three Gubernatorial offices, one Senate seat, 13 Congressional seats, and 22 state legislative seats.
Justin grew up as the son of a minister and two long-time union members in Philadelphia. After graduating from Colgate University, he taught history at a Title 1 high school, while attending Fordham University. His career in politics began in Harlem where Justin became a community organizer and City Council liaison. He later managed Congressman Bill Pascrell's improbable 2012 campaign victory and served as Executive Director of the New Jersey Democratic State Committee. Justin was also the DCCC Northeastern Political Director where he successfully helped flipped two more Congressional seats. He has been featured in national and local media outlets including, NBC News, POLITICO, AP, ABC News, C-SPAN, The Washington Post, The Wall Street Journal, Marketwatch, and New York Magazine.
Before joining For Our Future in December 2017, Justin was Senior Vice President at the political consulting firm Pivot. Justin specializes in recognizing and nurturing local organizing talent, believing that the people who know the community best are the best people to lead the local organizing efforts. Justin resides in Washington, D.C. with his wife and two children.