Media 101: Training for Organizers New to Talking to the Media
Session Type(s): Training
Training Tag(s): Communications
Starts: Thursday, Aug. 13 11:00 AM (Eastern)
Ends: Thursday, Aug. 13 11:50 AM (Eastern)
Are you new to talking to the press and need a quick run-down on how to do it well? We'll supply you with a solid foundation on the basics of media interviews and give you time to practice those skills. Come to this training with major messages about your work and a few tough questions you want to practice responding to, and you'll leave knowing how to land those messages in the media. The trainers come from a background in reproductive health, rights, and justice; however, the skills and tips are applicable to any social justice organizing work.
Trainers
Alexa Garcia-Ditta (she/her) brings more than 10 years of experience in reproductive health and rights communications to her role as principal at ConwayStrategic. Alexa has written for several Texas-based media outlets and served as communications director for NARAL Pro-Choice Texas prior to joining the Conway team. Hailing from her home in Austin, Texas, Alexa strives to improve the way media covers abortion and uplift and center the voices of people most impacted by reproductive health, rights and justice policy. She holds a Master of Arts in journalism from the University of Texas at Austin and a Bachelor of Arts in journalism and Spanish from UT-Arlington.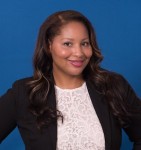 Newly elected to the Georgia State House of Representatives, Renitta is an active community organizer and leader around economic, gender and racial justice issues. She has been active with the Fight for $15 campaign and was previously the Executive VP of Georgia's National Organization for Women chapter. Since college, she has excelled in business development through out her professional career in the healthcare industry.