Maintaining Autonomy and Privacy Online in a Culture of Surveillance
Session Type(s): Training
Training Tag(s): Operations
Starts: Friday, Aug. 14 4:00 PM (Eastern)
Ends: Friday, Aug. 14 4:50 PM (Eastern)
Our phones and computers are used by corporations, governments, and cybercriminals to track and surveil our activity, from our online purchases to our offline location. This is especially true for groups interacting with marginalized populations. Surveillance affects us all, but is even more likely to harm immigrants, people of color, trans folks, and those with other intersecting, marginalized identities. The good news? We can protect ourselves and maintain our digital autonomy, and in this workshop, you'll learn how!
Trainers
Amanda Bennett (she/her) is Digital Defense Fund's project manager. Before joining the team at DDF, Amanda was the case manager at Jane's Due Process, helping young people navigate the Texas judicial bypass process. Outside of work, she volunteers for the Bridge Collective, which provides rides to abortion appointments.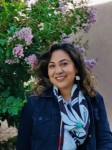 Rachael Lorenzo (Mescalero Apache/Laguna Pueblo/Xicana) is a queer parent of two and lives in Albuquerque, New Mexico. They were born in Las Cruces, New Mexico to young parents and was raised on their father's ancestral land in Laguna, New Mexico.
Rachael graduated with a BA in political science and a Masters in public administration, focusing on public health; both degrees are from the University of New Mexico. Rachael studied political campaigns, participated policy analyses, and has been consulted for their expertise in public health policies that could impact Indigenous communities.
​Rachael was not only raised on traditional values but also on politics. Throughout their academic career, Rachael volunteered for political campaigns, ranging from city council elections to presidential campaigns. Rachael was selected as a fellow for President Barack Obama's 2012 reelection campaign, Obama For America (OFA).
Currently, Rachael is not only part of Indigenous Women Rising but also serves as an appointee: Assistant Commissioner of Engagement and Tribal Liaison at the New Mexico State Land Office, under the first Latina and woman to serve as Land Commissioner, Stephanie Garcia Richard.