From Online to Offline: Integrating Issue Advocacy and Digital Campaigning
Session Type(s): Training
Training Tag(s): Experienced Online Organizing
Starts: Saturday, Aug. 15 4:00 PM (Eastern)
Ends: Saturday, Aug. 15 4:50 PM (Eastern)
In our online world, digital tactics must be fully embedded for campaign strategies to be effective. But, many organizations have divided "field" and "digital," making it hard to build alignment. We have a solution for that! We'll help you build a toolkit for digital and field campaign success: from knowing what tools are out there to developing compelling calls to action to keep activists engaged today and for the long haul. We'll also talk about using storytelling to uplift those closest to injustice—putting our progressive values into action. Field and digital alignment is a must if we are to win in 2020 and advance with the hard work of enacting progressive policies.
Trainers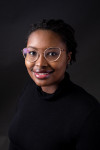 Ntebo Maya Mokuena is an Associate Campaign Director with Daily Kos. She was born in Washington, DC and raised in Gaithersburg, MD to a Black American mother and a black South African father. Growing up with an anti-apartheid activist Sotho father, Ntebo always believed in justice for marginalized communities. She found her passion for community organizing while attending American University, where she organized campaigns for worker justice and Palestinian human rights. Currently, she organizes with climate justice group 350 DC and Black Youth Project 100 DC Chapter. Prior to joining Daily Kos, Ntebo worked as a voting rights organizer at a Unitarian Church and as a paralegal at a law firm specializing in renewable energy contracts.
When not organizing, Ntebo enjoys watching the Wizards and Caps, playing the violin, and taking care of her pet bearded dragon.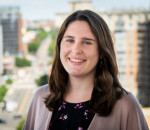 Colleen is the Digital Engagement Manager for Beyond the Bomb and Global Zero. Colleen is passionate about campaigning for justice and peace issues, with experience in eliminating nuclear weapons, ending U.S. support for the war in Yemen, promoting human rights and justice in Indonesia and East Timor, working for peace between North and South Korea, and advocating for access to education for women in Pakistan. Above all, she has a passion for using digital mediums to advance causes of human rights and justice.
Colleen received her Bachelor of Arts degrees in International Relations and Political Science from Hobart and William Smith Colleges and a Master of Arts degree in International Relations from American University's School of International Service. She previously held roles at Win Without War, Seeds of Peace, East Timor and Indonesia Action Network, and Peace Action New York State. In her free time, you can find her reading about history and social justice issues and traveling (when not in the middle of a global pandemic).