Freedom to Prosper: Growing the National Movement to Cancel Student Debt
Session Type(s): Panel
Starts: Thursday, Aug. 13 12:00 PM (Eastern)
Ends: Thursday, Aug. 13 12:50 PM (Eastern)
Five years ago, national student debt was a $1.1 trillion crisis, with no solution in sight. The idea of canceling student debt was unthinkable. Today it's $1.7 trillion, impacting 46 million Americans and their families. Messaging, grassroots organizing, and economic research have changed the political landscape. There are now two bills in Congress to make full student debt cancellation a reality. Led by Congressional Progressive Caucus Co-Chair Pramila Jayapal (WA-7), our panel will focus on Freedom to Prosper and the Cancel Student Debt Movement as a case study to further progressive policies. From progressive idea to presidential platform, we'll highlight the power of messaging and organizing to help you further your cause.
Moderator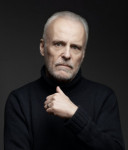 Richard Eskow is a writer (Nation, Salon, HuffPost, etc.), consultant, and radio/TV commentator (The Zero Hour). He is a Senior Advisor for Freedom to Prosper. He is also Sr. Advisor for Health & Economic Justice at Social Security Works. He was the lead writer and editor for Bernie Sanders' 2016 presidential campaign. Richard has been a public policy advisor in over 20 countries.
Panelists
David A. Bergeron is a senior fellow for postsecondary education at the Center for American Progress (CAP) after previously serving as vice president for postsecondary education policy at the progressive think tank. While at CAP, David has written on a variety higher education issues including releasing a series of papers calling for "College for All". David has also written extensively on higher education accountability and accreditation including, most recently, a chapter in Accreditation on the Edge (edited by Susan Phillips and Kevin Kinser and published by John Hopkins Press in 2018). Prior to joining CAP, David served as the acting assistant secretary for postsecondary education and as the deputy assistant secretary for policy, planning, and innovation at the U.S. Department of Education during the Obama administration. Prior to becoming deputy assistant secretary, David served at ED in a variety of career roles. David has returned to his home state of Rhode Island and volunteers in a variety of ways for University of Rhode Island, where he received his bachelor's degree in political science and sociology, and College Unbound, a recently accredited degree completion college for working adults in Providence, Rhode Island.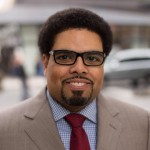 Darrick Hamilton is a pioneer and internationally recognized scholar in the field of stratification economics, which fuses social science methods to examine the causes, consequences and remedies of racial, gender, ethnic, tribal, nativity, etc. inequality in education, economic and health outcomes. This work involves crafting and implementing innovative routes and policies that break down social hierarchy, empower people, and move society towards greater equity, inclusion, and civic participation.
Professor Hamilton's scholarship and practice aligns closely with the work and objectives of the John Glenn College of Public Affairs and The Ohio State University's Kirwan Institute for the Study of Race and Ethnicity. In addition to serving as Kirwan's executive director, Professor Hamilton holds a primary faculty appointment in the Glenn College of Public Affairs, with courtesy appointments in the departments of economics and sociology in the College of Arts and Sciences.
Professor Hamilton was born and raised in the Bedford Stuyvesant section of Brooklyn, NY. He is a graduate of Oberlin College and earned a PhD in economics from the University of North Carolina; he completed postdoctoral appointments at the University of Michigan and Yale University, respectively. He is frequently cited in the media, consults with various public official and serves as an advisor to several nonprofit organizations.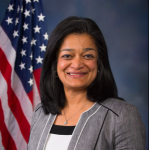 Congresswoman Pramila Jayapal represents Washington's 7th District, which encompasses most of Seattle and surrounding areas including Shoreline, Vashon Island, Lake Forest Park, Edmonds and parts of Burien and Normandy Park. Congresswoman Jayapal is committed to ensuring that every resident of the district has economic opportunity; fairness and equity; and safe and healthy communities. She is proud of the district's role in leading the country on issues like the minimum wage, racial equity and innovation, and will work to support that work and lift it up as a model for the rest of the country. Her focus is on ensuring income equality; access to education, from early learning to higher education, including debt-free college; expanding Social Security and Medicare; protecting our environment for our next generation; and ensuring immigrant, civil and human rights for all. The first Indian-American woman in the House of Representatives, Jayapal has spent the last twenty years working internationally and domestically as a leading national advocate for women's, immigrant, civil, and human rights.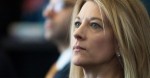 Stephanie is an economist and lead author of the Levy Report, the central macroeconomic study on Full Student Debt Cancellation. She is the leading authority on Modern Monetary Theory, a new approach to economics that is taking the world by storm. She is considered one of the most important voices influencing the policy debate today.
Her forthcoming book, The Deficit Myth: Modern Monetary Theory and Creating an Economy for the People (summer 2020), shows how to break free of the flawed thinking that has hamstrung policymakers around the world.
In addition to her many academic publications, she has been a contributor at Bloomberg Opinion and has written for the New York Times, The Los Angeles Times, U.S. News & World Reports, CNN, and others.
Professor Kelton has worked in both academia and politics. She served as chief economist on the U.S. Senate Budget Committee (Democratic staff) in 2015 and as a senior economic adviser to Bernie Sanders' 2016 and 2020 presidential campaigns. She currently works as a Professor of Economics and Public Policy at Stony Brook University, and she holds Visiting Professorships at The New School for Social Research, the University of Ljubljana, and the University of Adelaide. She is a member of the TopWonks network of the nation's best thinkers and one of POLITICO's 50 Most Influential Thinkers (2016). She was previously Chair of the Department of Economics at the University of Missouri, Kansas City.