Disrupting Nationalist Narratives: Understanding and Mobilizing Military Veterans
Session Type(s): Panel
Starts: Saturday, Aug. 15 12:00 PM (Eastern)
Ends: Saturday, Aug. 15 12:50 PM (Eastern)
When people think about the American military or veterans, very specific stories, images, and tropes come to mind. While veterans are not a monolith, this community is often ceded to the right or exploited by corporate politicians to build political capital and shield themselves from accountability. Progressives are not immune from treating this community in linear binaries, and often overlook the plurality and dynamism of this force-multiplying, vital base that is sorely needed in the fight to dismantle militarism, white supremacy, jingoism, corruption and neo-fascism. This session features progressive and leftist veteran leaders who have worked in movements, campaigns, policy, or run for office. They will offer needed analysis and tools for movement builders to deconstruct antiquated notions of the military/veteran base in order to identify, engage and mobilize veterans without forcing them to leave their diverse identities and power behind.
Moderator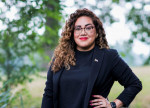 Pam Campos-Palma (she/ella) is a political strategist focused on peace and security, movement building, and defeating endless militarism and rising ethno-nationalism at home and abroad. A former military intelligence analyst, Pam is a trusted, visionary leader on matters of defense, national security, and progressive politics in the US and internationally. She expertly bridges grassroots organizing and grasstops policy worlds while serving an advisor to national-level leaders, organizations, think tanks, and campaigns. At the core of her work, Pam works to democratize progressive foreign and security policy through the leadership development and political organizing of war-affected peoples– namely the veteran/military community through her project Vets for the People as part of the Working Families Party. The proud Honduran-Guatemalan daughter of a working-class immigrant mom, Pam is rooted in community, compassion, and collective freedom, and routinely dreams about global solidarity towards a just and equitable future.
Panelists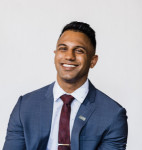 Shaniyat "Shan" is Southside Jamaica, Queens. He served 6 years in the United States Marine Corps as a Field Radio Operator. His service continued in community organizing around housing, anti-poverty, immigrant, & foreign affairs policy— working on these various issues with think tanks and community organizations. His motivation for public policy ventured into working in the New York State Assembly as aide, staffer for AOC, and most recently running for Congress in NY-5.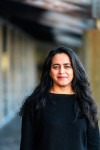 Arti Walker-Peddakotla is an Oak Park Village Trustee, first generation Indian American, U.S. Army veteran, community organizer, scientist, and technologist. Arti advocates for racial justice and reimagining community safety in Oak Park, IL with Freedom to Thrive Oak Park, immigrant and refugee rights with Veterans for American Ideals, a project of Human Rights First, and is a Defense Council member of Truman National Security Project.