Building an Inclusive Internet: A Challenge Borne of Necessity
Session Type(s): Panel
Starts: Saturday, Aug. 15 12:00 PM (Eastern)
Ends: Saturday, Aug. 15 12:50 PM (Eastern)
For our work, the Internet is critical and, on many fronts, its effectiveness and independence is under attack. In struggling to find a way to defend it, our movements are hampered by the under-representation in Internet decision-making of women and people of color. To save the Internet as a useful communications and organizing network in our quest to build a just and sustainable society, we need to change that. Representatives of major national organizations that are leading the work of inclusion will discuss how to combat the racism and sexism crippling Internet decision-making by excluding people of color and women and alienating them by seeping into the content of social media.
Moderator
Panelists
Teresa Basilio Gaztambide is the Network Strategies Director at MediaJustice, a native of Puerto Rico, and has been a Brooklyn resident for over 20 years. She is the founder of Resilient Just Technologies (RJT), a community organizing and digital justice organization aimed at leveraging media, communications, political education, and decentralized technologies for immediate use by organizers on the frontline of racial, economic and climate justice movements to envision a world where all of our communities have access to a fair and just communications system. Previously, Teresa was the Deputy Director of the Resilient Communities Program at New America and the Co-Executive Director of Global Action Project (GAP).Teresa is also a filmmaker co-producing the documentary Voces de Fillmore focusing on the impact of gentrification and displacement on working class communities of Puerto Rican and immigrant families living in the Los Sures neighborhood of Williamsburg, Brooklyn. She co-organized with Sofía Gallisá Muriente and Adela Nieves, the Detroit – Puerto Rico Solidarity Exchange Network Gathering at the 2017 Allied Media Conference which brought together 80 Detroit and Puerto Rican organizers and cultural workers committed to grassroots efforts rooted in self-determination to share narrative and organizing strategies, build relationships, and imagine a world where our people are free.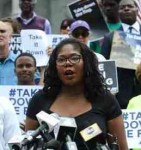 Brandi Collins-Dexter is the Senior Campaign Director at Color Of Change and oversees the media, democracy and economic justice departments. She has led a number of successful campaigns for accountability including getting Fox's The O'Reilly Factor taken off the air; getting R. Kelly dropped from RCA for his repeatedly abusing girls; winning Net neutrality protections; pressuring financial companies to pull funding from hate groups; and persuading Disney not to whitewash the features of their character Princess Tiana.
Brandi is a regular commentator in the media on racial justice. The Hill named her a 2017 "person to watch." She has written for The Root, The Hill and ESPN's The Undefeated, and has been featured on the BBC, and in the Guardian, Gizmodo and Pitchfork.