Achieving Energy Sovereignty through Renewable Energy
Session Type(s): Panel
Starts: Thursday, Aug. 13 12:00 PM (Eastern)
Ends: Thursday, Aug. 13 12:50 PM (Eastern)
The ability to regulate and develop clean energy is an expression of energy sovereignty and self-determination for tribal communities. Yet, regulations, legal frameworks and access to capital are just a few challenges that tribal nations face to ensure equitable renewable energy access for their members. This panel will provide participants new understanding of the opportunities and barriers for renewable energy in tribal communities; share innovative renewable energy projects; and discuss how tribal communities, advocates, industry and government can work together to help tribal nations achieve their energy sovereignty and renewable energy goals.
Moderator
Tanksi joined GRID Alternatives in December 2018 as the Director of the Tribal Solar Accelerator Fund, a tribal focused grant program offering funding to federally recognized tribes for solar project funding, and to individual tribal members through the Tribal Energy Innovators Fellowship and the Tribal College Scholarship program. Prior to joining GRID, she worked with 19 tribes impacted by nuclear energy through the National Conference of State Legislatures and the Department of Energy, as well as grant making in Higher Education at the nations Tribal Colleges and Universities through the American Indian College Fund. Tanksi is an enrolled member of the Sisseton Wahpeton Oyate, and of the Rosebud Sioux Tribe. Tanksi is deeply committed to working with tribes across Indian Country.
Panelists
Lizana Pierce is duty-stationed in Colorado and serves as the principal engineering expert for the Director and Deputy Director of the U.S. Department of Energy (DOE) Office of Indian Energy Policy and Programs on deployment programs. Ms. Pierce is responsible for implementing the Office's Deployment Programs: Technical Assistance; Financial Assistance; and Education and Capacity Building. Lizana has over 25 years of experience in energy technologies, project development, and management, and has dedicated more than 20 of those years to assisting Indian tribes in developing their energy resources and building their human capacity to realize their energy visions. Prior to joining the Office of Indian Energy in 2015, Ms. Pierce was the project manager for the Tribal Energy Program under DOE's Office of Energy Efficiency and Renewable Energy, a position she held since the program's inception in 2002. In that capacity, she solicited tribal clean energy projects and administered the resulting grants and agreements as well as implemented the program's technical assistance and education and outreach efforts. Prior to overseeing the EERE Tribal Energy Program, Ms. Pierce worked in several of the research and development programs at DOE, including the solar, wind, and biomass programs.
Before joining DOE, she held a number of engineering positions in the defense and aerospace industries and was fortunate to have been involved in the integrated science payload flown on the Tethered Satellite Shuttle Mission (STS-46). Ms. Pierce holds a Bachelor of Science degree in mechanical engineering from Colorado State University, and she pursued a Master's in Business Administration through the University of Northern Colorado.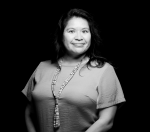 Suzanne Singer is a member of the Navajo (Diné) tribe and grew up in Flagstaff, Arizona. She co-founded the non-profit organization Native Renewables in 2016 to solve energy access challenges for 15,000 families on the Navajo Nation who live without electricity. Her mechanical engineering and energy analysis background provides the technical foundation to develop programs that promote tribal energy independence, offer affordable off-grid solar energy solutions, and provide training and education programs that empower families. Prior to founding Native Renewables, Singer was a staff engineer and post-doc at Lawrence Livermore National Laboratory, where she supported energy security projects. In addition, she was an intern with Sandia National Laboratories' Tribal Energy Program, which led to her passion in researching renewable energy generation and energy independence for Native American Tribes. Singer is the winner of the 2019 U.S. Clean Energy Education and Empowerment (C3E) Entrepreneurship Award, a recognition of outstanding leadership and accomplishments in clean energy. She earned a PhD and MS in Mechanical Engineering from the University of California, Berkeley, and a BS in Mechanical Engineering from the University of Arizona.
Karin Wadsack serves as project manager for the National Renewable Energy Laboratory. She has over a decade of experience working with tribes across the United States on energy analysis, policy, and project development. At NREL, she leads multiple tribal renewable energy projects and performs applied analysis for renewable energy development and energy system resilience projects around the world. Her background includes experience in international development, business management, and more than 20 years developing and executing projects. Karin holds a PhD in Engineering Sustainable Systems, a certificate in Applied Statistics, master's degrees in Environmental Science & Policy and Journalism, and a bachelor's degree in Government.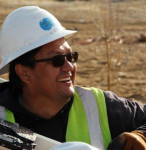 Tim has served as the Director of GRID Alternatives Tribal Program for five years. Tim joined GRID from Namaste Solar where he worked for six years as a Field Supervisor for commercial solar installations and is a NABCEP-certified PV Installation Professional. While at Namaste, Tim oversaw over 4 megawatts of solar PV installations through commercial and residential installs. Tim earned his B.A. in economics from Cornell University and upon graduation, worked as a lobbyist for the Navajo Nation Washington Office representing the tribe in economic development and education.
In addition to working with GRID's regional offices in California who do extensive solar PV work with Tribes on solar PV installation and workforce development, Tim has helped establish GRID's presence with Tribes in South Dakota and the Great Plains, in the Southwest on the Navajo Nation, and in Washington State with the Spokane Tribe of Indians. These Indigenous Nations continue to face economic struggles related to energy development and clean energy access, and Tim and the Tribal Team work with Tribes towards their goals of energy sovereignty, job creation with less environmental impact. Tim has also worked to provide training and employment opportunities through GRID's Solarcorps Program to 15 Solarcorps Fellows from Indigenous Nations throughout the United States.
Tim is Navajo originally from Pueblo Pintado, New Mexico, and his goal is continue to partner with tribes on residential and commercial projects in order to bring solar to Indigenous Nations.