You Gotta Organize to Mobilize: How to Do Digital for a Mass Mobilization or Direct Action
Session Type(s): Training
Training Tag(s): Basic Online Organizing
Starts: Saturday, Jul. 13 1:00 PM
Ends: Saturday, Jul. 13 2:00 PM
Room: 121C
Mass mobilization and direct action have long helped movements win, but the way we build and communicate to our base has changed. Digital tools have democratized the way we tell stories and opened up opportunities for more personalized outreach and recruitment to help shift the balance of power in our favor. With step-by-step handouts and case studies from the People's Climate March in NYC and APTP's 96 hours of direct action in Oakland, this panel will prescribe how to easily create supporter engagement journies across channels before, during, and after mobilization that will help you get the numbers to win AND change hearts and minds.
This training is for anyone who is beginning to think about organizing and mobilizing online and for those who run events and want to engage new supporters.
Moderator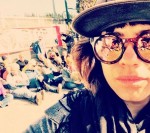 I currently work as the senior digital project coordinator for the climate team at Greenpeace USA, am a Power Shift board member, and sit on the Rising Tide North America organizing team. I also consult for grassroots groups and non-profits around online, engagement, and direct action strategy. I continuously work to take the good and bad of what I've learned over the years and experiment with new ways of story-telling and building power. When we stop asking questions and pushing to be better at what we do, we lose important battles for a better world! At the moment, my focus is developing working digital principles for teams who want to explore how to have more authentic conversations with their supporters and move away from one-way blasts. Outside of paid work, I organize with frontline groups against police brutality, gentrification, and environmental justice. I'm originally from Mississauga of the New Credit Territory as known as Ontario, Canada, but now live in Oakland, California on Ohlone Territory.