Why Abortion Isn't a Wedge Issue
Session Type(s): Panel
Starts: Saturday, Jul. 13 9:00 AM (Eastern)
Ends: Saturday, Jul. 13 10:00 AM (Eastern)
This panel will provide an in-depth look at what current influencers including activists, reporters, voters and politicians, say—or don't say—about abortion. Progressives often deepen the stigma around abortion by claiming it a "wedge" issue that is disentangled and siloed from every other issue area. This could not be farther from the truth. Join us for a conversation about how progressives should be talking about abortion leading up to the 2020 election.
Moderator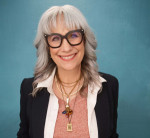 As co-creator and former head writer of The Daily Show and co-founder of Air America Radio, Lizz Winstead has helped changed the very landscape of how people get their news. Winstead also brought her political wit to The Daily Show as a correspondent and later to the radio waves co-hosting Unfiltered, Air America Radio's mid-morning show, with Chuck D and Rachel Maddow. Lizz continues doing stand-up, but spends most of her time at the helm of Abortion Access Front (formerly Lady Parts Justice League), a NYC- based reproductive rights organization that she founded in 2015, which uses humor and outrage to expose anti-choice hypocrisy and mobilizes people to take action in all 50 states. Known as one of the top political satirists in America, Winstead has been recognized by all the major media outlets including The New York Times, The Washington Post, O Magazine, Newsweek, Forbes, Now This, and as Entertainment Weekly's 100 Most Creative People. Winstead's first book, Lizz Free Or Die: Essays, was released in 2012 to incredible reviews, with Ms. Magazine saying, "Lizz Winstead is a sharp-witted truth-teller, and Lizz Free or Die will inspire anyone who has ever talked back to the television or wished they could come up with satire as insightful as The Daily Show." To keep up with Lizz, follow her on Twitter @lizzwinstead or like her on Facebook www.facebook.com/lizzwinstead
Other sessions: Choice Caucus
Panelists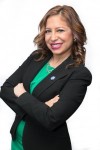 Jessica González-Rojas is the Executive Director at the National Latina Institute for Reproductive Health, the only national reproductive justice organization that works to advance reproductive health and rights for Latinas. She has been a leader in progressive movements for two decades, successfully forging connections between reproductive health, gender, immigration, LGBTQ liberation, labor and Latino civil rights. She is an authentic voice for Latinas and a regular presence in national media outlets. She holds a Master's degree from NYU's Wagner Graduate School of Public Service and a certificate from Columbia University's Graduate School of Business. Jessica and NLIRH have been honored for their work by several outlets and organizations, including the National Women's Law Center, Emily's List "We are Emily" award in 2017, LatinoJustice PRLDEF's "Latina Trailblazer" in 2016, Latina Magazine as one of 2014's "10 Most Inspiring Latina Activists", Cosmo for Latinas as a "Fun, Fearless Latina" in 2014, the National Council of Jewish Women as a "Champion for Choice" in 2013, LATISM as 2013's "Best Non-Profit" and by El Diario/La Prensa as one of 2009's "Mujeres Destacadas" (Women of Honor); she was also recognized on Cosmopolitan's "2013 Power List" in the October 2013 issue, has been named one of "13 Women of Color to Watch in 2013" by the Center for American Progress.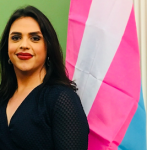 Sebastian Pelaez identifies as trans woman, first generation American whose family is originally from Colombia. Sebastian is currently serving as a Commissioner for the Pennsylvania Commission on LGBTQ+ Affairs. Within her role as a commissioner Sebastian continues to advocate for inclusivity within policies, pride festivals, and other statewide initiatives. She is currently apart of the education sub-committee with a focus on LGBTQ+ affirming sex education curriculum.
Sebastian Pelaez se identifica como mujer transgénero, primera generación Americana. Su familia es de Colombia. Actualmente Sebastian sirve como miembra del comité de Pennsylvania en asuntos LGBTQ+. En su trabajo como miembra del comité, Sebastian continúa luchando por la inclusividad de nuestras diversas comunidades dentro de policías, festivales, y varias diferentes iniciativas en el estado. Sebastian también es parte el subcomité de educación con el enfoque de crear currículo de educación sexual que sea inclusivo de la comunidad LGBTQ+.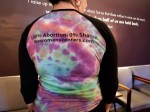 Roxanne Sutocky serves as Director of Community Engagement for The Women's Centers, a group of independent abortion providers specializing in first and second trimester abortion care in CT, GA, NJ, and PA. Her home base is the Cherry Hill Women's Center in New Jersey, where she helps to coordinate the state's reproductive health coalition, Thrive NJ. Roxanne facilitates educational, political, and volunteer opportunities for community members and seeks to break down misinformation and stigma surrounding abortion care. In addition to her work in the clinic, Roxanne serves as a board member of the New Jersey Abortion Access Fund, New Jersey's only free-standing abortion fund, and she organizes a team of Clinic Defenders in collaboration with South Jersey NOW- Alice Paul Chapter.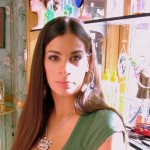 Maysoon Zayid is an actress, comedian, writer, and disability advocate. She is a graduate of and a Guest Comedian in Residence at Arizona State University. Maysoon is the co-founder/co-executive producer of the New York Arab American Comedy Festival and The Muslim Funny Fest. She was a full-time On Air Contributor to Countdown with Keith Olbermann and a columnist for The Daily Beast. She has most recently appeared on Oprah Winfrey Networks In Deep Shift, 60 Minutes, and ABC News. Maysoon had the number one TED Talk of 2014 and was named 1 of 100 Women of 2015 by BBC.
As a professional comedian, Maysoon has performed in top New York clubs and has toured extensively at home and abroad. She was a headliner on the Arabs Gone Wild Comedy Tour and The Muslims Are Coming Tour. Maysoon appeared alongside Adam Sandler in You Don't Mess with the Zohan and limped in New York Fashion Week. Maysoon is currently developing a television series for TNT titled Sanctuary and a book for Audible produced by Hello Sunshine . www.Maysoon.com