What is Absorption? Turning Mobilizing into Organizing at Scale
Session Type(s): Training
Training Tag(s): Advanced Online Organizing
Starts: Thursday, Jul. 11 2:30 PM (Eastern)
Ends: Thursday, Jul. 11 3:30 PM (Eastern)
Something happens, and millions of outraged people take to the streets in powerful mobilizations that bring people from all walks of life together. Flash forward a few weeks later and people have moved on to the next issue. How many times have we experienced these powerful mobilizations, only to learn that there's nothing to do next? How can we turn moments of outrage into meaningful, real, lasting power? Absorption is about giving people as many possible opportunities to take action. In this training, you'll learn proven strategies for building leadership and deepening engagement at scale.
This training is best suited for advanced organizers who are looking to build power.
Moderators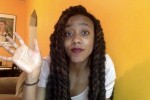 Nicole Carty is a Director with PowerLabs where she focuses on online to offline mobilization and creating structures and processes to support volunteer-led teams.
Prior to PowerLabs, Nicole was a Campaign Manager at SumOfUs where she ran campaigns to bring equitable policies to the tech industry, served as a communications specialist, and implemented internal anti-oppressive organizational structures.
Previously Nicole was Programming Director at The Other 98% where she helped grow the organization's social media reach into the millions.
Nicole is a movement builder who was deeply involved in Occupy Wall Street and has played critical roles in the Movement for Black Lives.
Nicole is also a Lead Trainer and Core team member at Momentum.
Thaís is an undocumented digital strategist and campaign manager for CREDO Action. Prior to CREDO, Thaís was the digital lead for Movimiento Cosecha where she experimented with using digital tools and tactics to reach communities of color and immigrants to move them into offline action. Thaís was the national coordinator of the #SanctuaryCampus movement and mobilized over 150 campuses to walk out following the election of Trump.