Take Away Our Poverty, Not Our Children: Campaigning for Welfare, a Living Wage and a More Caring World
Session Type(s): Panel
Starts: Thursday, Jul. 11 10:15 AM (Eastern)
Ends: Thursday, Jul. 11 11:15 AM (Eastern)
Join us for a cross-movement approach to campaigning for economic, social and environmental justice. You'll hear from those directly impacted by poverty, the punitive welfare and child welfare systems, and mass incarceration. Mothers and other caregivers will speak on the unjust removal of children by child welfare because of poverty, racism, sexism, being migrants or domestic violence victims or having disabilities; being treated as charity cases rather than as workers entitled to welfare and a living wage; poverty's impact on women's low-waged and unwaged workloads; and more. How can we change the narrative on welfare and who is a worker to move beyond the "point of production" to build a more collaborative and broader movement?
Moderator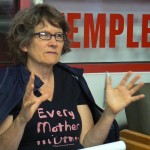 Phoebe Jones is coordinator of the Crossroads Women's Center in Philadelphia, a base for groups fighting against poverty and the unjust removal of children, for recognition and support for caregiving. She is co-coordinator of the Global Women's Strike in the US and an author of The Milk of Human Kindness: Defending Breastfeeding from the Global Market and AIDS Industry. Phoebe is a mother, a Quaker and runner with a PhD in physical education.
Panelists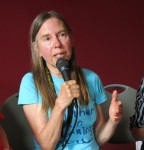 Pat Albright is with Every Mother is a Working Mother Network (EMWM)/Phila and on the Coordinating Committee of the PA Poor People's Campaign: A National Call for Moral Revival. A single mother with a disability, Pat was formerly on General Assistance (GA). She has been campaigning with EMWM to establish that raising children is work entitling mothers and other caregivers to welfare and a living wage; against welfare reform, attacks on food stamps and other benefits; in support of the RISE Out of Poverty Act, and the fight to keep – expand and increase – GA, TANF (Temporary Assistance for Needy Families) and other benefits.
Karen Ali, Human Rights Coalition and Women of Color in the Global Women's Strike. Karen is a former welfare recipient and a former welfare caseworker. She spoke in Harrisburg during the 40 Days of Action by the Pennsylvania Poor People's Campaign: A National Call for Moral Revival about her experiences fighting for her husband who is incarcerated for life. Karen has been fighting for her husband for 48 years. Omar Askia Ali was framed for a crime he had no involvement in and tried twice by an all-white jury.
Rev. Annie Chambers is a life-long grassroots community activist against poverty, for welfare, housing and healthcare rights. She is a founding member and past President of the Baltimore Welfare Rights Union and Co-Chair of the National Welfare Rights Union. A Black mother/grandmother/great grandmother from inner-city Baltimore, she is the Director of Big Momma's House which provides daytime shelter for children, feeds homeless people, works with drug-addicted parents, helps families with children find permanent shelter.
Carolyn Hill, with DHS Give Us Back Our Children, Every Mother is a Working Mother Network and Women of Color in the Global Women's Strike, is a mother/grandmother/aunt who fought to get her nieces back, and now works with mothers and other caregivers fighting child welfare cases. She speaks out, recently testifying at City Council, pressing for resources to go to families rather than to the child welfare industry. She speaks out, as well, about the health impacts on her community of environmental devastation, and the devaluation of the lives of those impacted by violence, especially people of color.