Parents Caucus
Starts: Friday, Jul. 12 1:30 PM (Eastern)
Ends: Friday, Jul. 12 2:30 PM (Eastern)
Progressive parenting as an organizing tactic that wins! When we show up to political organizing as our full selves– wearing our hats as both organizers AND as parents/caregivers– we bring the full power of our truth to storytelling. We turn data into stories that WIN big on policy. From healthcare to paid leave to immigration and beyond, let's talk about how, as parents & caregivers, we change our culture and build a nation where everyone thrives.
Moderators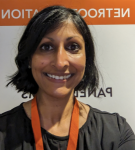 Netroots Nation board member; Lead UX Writer. "Our goal is to create a beloved community and this will require a qualitative change in our souls as well as a quantitative change in our lives."
~ Dr. Martin Luther King Jr.