Open Canvassing: Tech and Techniques Developed During Ocasio 2018
Session Type(s): Training
Training Tag(s): Grassroots Organizing/Campaigns
Starts: Saturday, Jul. 13 2:15 PM (Eastern)
Ends: Saturday, Jul. 13 3:15 PM (Eastern)
Without corporate money, Alexandria Ocasio-Cortez's campaign relied on people power and grassroots energy. To harness that energy as effectively as possible, we invented a mobile app called Reach. By giving volunteers the ability to capture valuable data from every voter interaction (no matter when or where it happened), this tool enabled new options of canvassing that simply weren't possible before. This session will explore those new tactics and methods. We'll work through the mechanics of the tools and the ideas behind the broader strategies, drawing lessons from two dozen campaigns which have been implementing them so you can apply them to your next field program and truly meet voters where they are.
This session is intended for campaign managers, directors and organizers for both issue-based and electoral campaigns.
Moderators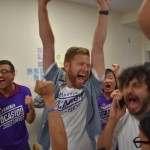 Jake has followed his passion into an award-winning career in theatrical lighting design, a deep involvement in the Occupy Wall Street movement in 2011-2012, and now the Ocasio-Cortez campaign and Reach. He dreamed up and built the precursor and inspiration for Reach on the Ocasio 2018 campaign and is leading the product team.