More than Words: Using the Language of Imagery to Mobilize
Session Type(s): Panel
Starts: Thursday, Jul. 11 2:30 PM (Eastern)
Ends: Thursday, Jul. 11 3:30 PM (Eastern)
From Rep. Ocasio-Cortez's iconic poster to the Sunrise Movement's mediagenic expressions of urgency and discipline to the futurism of Black Panther going from theaters to the streets, visual strategy makes a clear difference in campaigns. It's time to learn why art and culture is necessary to win. Our panel features examples of visual strategy making a difference in campaigns, from memes to banners, told by cultural workers operating at the cutting edge of visual production, meme-making and community organizing. How do we best apply these practices to the visually saturated world of social media and media? What do organizers need to know to integrate visual and narrative storytelling in to their work?
Moderator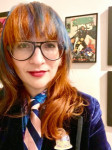 Elana is Program Director at New Media Mentors, the official trainings partner of Netroots Nation. Through NMM progressive organizations can access training in social media skills any time online.
Elana joins New Media Mentors after serving as digital director for labor unions and community based organizations and has lead trainings for over 4,000 progressives as co-founder of the Organizing 2.0 conference.
Listen to Elana's podcast about the intersection of comics, nerd culture and social change, Graphic Policy Radio, on any podcast platform.
Elana tweets about the labor movement, New York politics, online organizing and superhero comics at @Elana_Brooklyn.
Other sessions: So Many Social Media Platforms, So Little Time
Panelists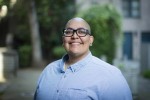 Felicia T. Perez is the Innovation Director at the Center for Story-based Strategy. Her previous organizing experience includes work for United Workers Congress, GetEqual, the ACLU of Southern California, No on Proposition 21 campaign, and Californians for Justice. Felicia holds a BA from the University of California, Santa Barbara and an MA in Curriculum and Instruction. She is a published author and co-author of social studies curriculum and in anthologies on teaching and performance. Prior to her work in strategic communications, she taught social studies for twelve years in Los Angeles and was a union chapter chair for UTLA.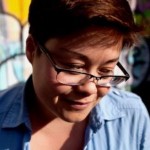 Ange Tran is a visual communications strategist and designer with a wide range of creative and production experience. She enjoys diverse work activity and collaboration in cross-disciplinary teams. For over ten years she has served grassroot, labor, coalition and not-for-profits to create design solutions that translate complex ideas into public-facing campaigns, communications and exhibitions. In other words, Ange makes stuff for people to see that is easy to read, strategically. You can view select work at www.angetran.info.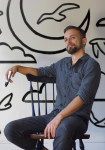 Josh Yoder grew up in the kind of rural Pennsylvania city, that only gets mentioned during presidential elections and conversations about fascism. He started organizing as a response to the bigotry of the war on terror, and anti-immigrant paranoia of the early 2000s.
Previous to co-founding Look Loud, he worked on visual strategy for Sunrise Movement, The Natural History Museum/Not an Alternative, The March for Science, the Public Society, and a half dozen anti-extraction campaigns. His work supports demonstrations in the street to be powerful in digital space. To make our actions reach people who haven't shown up yet. And to expand the aesthetic tent of social justice to include communities who do not currently see themselves represented.