MOBILE-ize Your Base: Getting Started with SMS for Campaigns
Session Type(s): Training
Training Tag(s): Basic Online Organizing
Starts: Friday, Jul. 12 4:30 PM (Eastern)
Ends: Friday, Jul. 12 5:30 PM (Eastern)
In grassroots organizing we say, "Meet people where they are," and with 95% of Americans owning a mobile phone, organizations and campaigns without a mobile (SMS) program are missing key opportunities. Mobile is the best direct response tool to reach, engage and activate donors, supporters, volunteers and voters. With response rates 4X what we see on email, more organizations are integrating SMS into their digital and field programs. But with so many different platforms out there, it's hard to make heads or tails over which is best for your needs. This training will cover why your campaign or organization should invest in mobile (SMS), the differences between peer-to-peer and broadcast texting and how you can use both effectively.
This training is open to all experience levels. You might be a digital expert or novice with some or limited mobile (SMS) experience, or you might be the field director on a campaign that has utilized peer-to-peer texting but knows nothing about broadcast SMS.
Moderator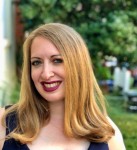 Sandi Fox is the founder of Smart As A Fox LLC, a digital strategy firm and CEO of Smart As A Fox Mobile Messaging, a broadcast text messaging (SMS) platform for small to mid-size organizations and campaigns. She has more than 14 years of digital strategy experience across multiple sectors, including government, political, non-profit, and private sectors. She has developed and managed innovative and effective digital outreach, advocacy and fundraising programs that emphasized results, engagement, deliverability, and audience growth. Some of her current and former clients include Vote.org, American Federation of Teachers, Common Cause, The Lawyers Committee on Civil Rights, Census Counts, 9-to-5, FL Counts, Grandmothers for Reproductive Rights, et. al.
Before starting Smart As A Fox she served as Digital Strategy Manager for Planned Parenthood and Planned Parenthood Action Fund for over three years leading their advocacy efforts. She developed their mobile program that had over 1000% growth through testing, organic and paid acquisition and an emphasis on engagement. Prior to joining Planned Parenthood she served as Director of Online Communications at the Enough Project which does genocide prevention work and Email Marketing Manager at the Center for American Progress and CAP Action Fund.