Session Type(s): Panel
Starts: Saturday, Jul. 13 2:15 PM
Ends: Saturday, Jul. 13 3:15 PM
Room: 118B
As we saw during the 2018 midterms, progressives still have a lot of work to do in small towns and rural communities. And with Donald Trump on the ballot in 2020, Democrats will have to invest in rural voters across the country to take back the White House. During our panel, we'll hear from organizers working on the front lines in small towns and rural areas about how women, people of color, and millennials are reshaping politics in their communities and discuss strategies for progressive engagement in non-metro areas.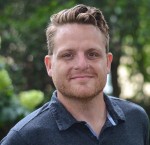 Matthew leverages online technologies to motivate key constituencies toward greater civic engagement. He is the Political Director at America's Voice and founder and Board-Chair of RuralOrganizing.org. Matt began his career working in television before jumping into national political communications over a decade ago. He grew up on a small farm in Eastern South Dakota and is a graduate of Bethel University in St. Paul, Minnesota where he studied Philosophy and Communications. He holds an Executive Education Certificate from Harvard University's Leadership, Organizing and Action program, and a Master's Degree in Strategic Communication from the University of Iowa.
Newark Councilmember Jeremy Blake has spent more than twenty years in service to others as a volunteer in the community, communications consultant, Ohio Senate staff member, Newark City School Board President and community organizer.
After graduating from Newark High School in 1996, Jeremy attended Denison University in Granville, Ohio but his passion for public service took him away from his academic journey. He went on to become a full time staff member with the Ohio Senate serving the Democratic Caucus for ten years. His first attempt at elected office occurred in 1999 for a city council seat in Newark, Ohio. While winning the Democratic primary election, he lost the general election by a slim margin. In 2000, Jeremy was appointed to the Newark City School Board to fill a vacancy and won a four year term the following year in the general election.
Promoting and advocating for public education was an ongoing effort during Jeremy's tenure on the school board. Many issue advocacy campaigns were organized to support the school system. The Newark community successfully supported a bond issue to build and renovate school buildings; approval was won for an income tax renewal and a permanent improvement renewal received endorsement by the voters.
He returned to Denison University in 2006 to work as a computer technician in the Information Technology Services Department. His existing title is Desktop Support Specialist. As a full time employee of Denison, Jeremy took advantage of the employee tuition benefit program and graduated in 2012 with a B.A. in Economics.
He currently serves as a member of Newark City Council from the 2nd Ward and has been an outspoken opponent of poverty and an advocate for early childhood education, jobs, collective bargaining, mental health services, peer support addiction services, LGBTQ civil rights, voting rights and improving neighborhoods. Councilmember Blake has served as chair of the Finance Committee and chair of the Economic Development Committee. His current city council leadership post is chair of the Rules Committee.
Councilmember Blake is the founding board president of the South Newark Civic Association, a founding board member of Young Leaders of Licking County, a former board member of Behavioral Healthcare Partners of Central Ohio, a former board member of Mental Health America of Licking County and has been active with the United Way of Licking County. Jeremy is a member of the Licking County Chamber of Commerce and a proud Kiwanian. He currently attends Sunday morning services at the United Church of Granville. He owns a home in the South End of Newark and lives with his dog Cyrus.