Extraordinary Goals, Revolutionary Futures: Moving from Inclusion to Decolonization in Organizing
Session Type(s): Training
Training Tag(s): Operations
Starts: Thursday, Jul. 11 9:00 AM (Eastern)
Ends: Thursday, Jul. 11 10:00 AM (Eastern)
Building momentum in the face of ever-growing regressive forces is challenging, especially with people who are often left out of mainstream campaigns and organizing. How can we activate new people and create strong relationships with marginalized communities? How do we reclaim, recognize and create organizing models and tools using a decolonial framework to create truly inclusive campaigns? This workshop aims to tip notions of conventional metrics and campaigns on their heads, and focus on movement building by, for and with community. We'll help you reassess and recognize the multitude of ways to organize and strategize in order to focus on extraordinary goals and revolutionary futures.
This training is for both new and experienced organizers who are looking for ways to diversify their campaigns using a variety of techniques, tools and methodologies in a way that builds power and works in solidarity with communities.
Moderator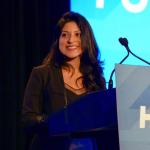 Nikki Koutsochilis is a Latinx organizer, facilitator, videographer and union activist. Nikki was elected as Co-Chair of the newly formed Black, Indigenous and People of Colour Committee with the BC New Democratic Party and Co-Chairs the Racial Justice and Equity Committee with the New Democratic Party of Canada. Nikki is an expert campaigner and has worked on grassroots, issue based and electoral campaigns. She has a deep love for strategizing, developing creative campaigns; and is unapologetic when it comes to moving past tokenism, and bridging the gap between underrepresented communities and electoral politics. Nikki advocates on workers rights, and social justice issues as a delegate to her local labour council as a member of the Canadian Media Guild – Freelance Branch; and was recently appointed as to the Racial and Ethno-Cultural Equity Advisory Committee with the City of Vancouver. She is passionately involved in direct action with a Vancouver-based migrant justice collective; on evenings and weekends you might find her connecting with migrant agricultural workers, or dancing at QTBIPoC events.