Cooperatives as a Tool for Social Movements
Session Type(s): Panel
Starts: Thursday, Jul. 11 2:30 PM (Eastern)
Ends: Thursday, Jul. 11 3:30 PM (Eastern)
Social movements have long used economic cooperation towards liberation. In 1970s Philadelphia, Movement for a New Society created affordable housing co-ops for activists. During the Civil Rights movement, black organizers used co-ops to support economic self-determination. Co-ops—food co-ops resisting the power and pollution of Big Agra or worker co-ops providing workplace safety and living wages for undocumented immigrants—have always been part of the solution. Today, politicians are grasping for cooperative solutions to build into progressive economic platforms. Come learn from those building and advocating for co-ops about how these solutions can be integrated into electoral campaigns, labor organizing and social movements.
Moderator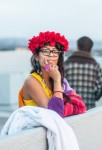 As a long-time cultural advocate and artist organizer, Natalia "conrazón" Linares creates visibility for independent artists of color who are rebalancing the world. Hailing from Staten Island, New York City, and raised by an immigrant Cuban mother and Colombian father, she is a digital nomad splitting her time between New York City and Western Massachusetts. With over a decade in the music business working with artists from Manu Chao to Bomba Estereo to Los Rakas to Zuzuka Poderosa and festivals like NYC's SummerStage, Santiago de Cuba's MANANA and the Afro-Latino Festival of New York City, she's worn various hats as a manager, producer, publicist, organizer, promoter and more. She is also a proud collective member of Sacramento, CA's Sol Collective, a center dedicated to arts, culture and activism. Natalia now works with New Economy Coalition to find sustainable and emancipatory alternatives to our world's economic systems through communications, media and cultural organizing.
Panelists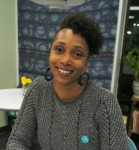 Jamila is a passionate advocate and educator for the advancement and growth of the cooperative economy. In her work with existing and start-up co-ops, she provides support for leadership development, cooperative economics education, navigating group dynamics, and creating adaptive systems to support group process and learning.
Jamila was introduced to the co-op business model in 2012 when she became a member of the staff collective at Mariposa Food Co-op. Prior to that, Jamila worked at the American Association for Cancer Research where she supported professional development and diversity and inclusion efforts for people of color and women with careers in the cancer research field. She's spent over twenty years serving mission-based organizations in the nonprofit and cooperative sectors.
Jamila holds a M.S. degree in Organizational Dynamics from the University of Pennsylvania and earned her B.A. degree in Urban Studies from Connecticut College. She's a native of Brooklyn, NY and lives in Philadelphia's Mount Airy neighborhood. Jamila is a creative homemaker who finds solace and joy in making her home a sanctuary for herself, partner, daughters, and grandchildren. She was the Philadelphia Community Fellow for the 2018 Shared Economics in Equitable Development Fellowship, serves on the board of directors for Media Mobilizing Project, and also works as an consultant with Columinate (a shared services cooperative for independent consultants).
has been a member of SolidarityNYC since 2012. She is currently a doctoral student in Earth and Environmental Sciences at the CUNY Graduate Center where she writes about anti-capitalist organizing among women in NYC. Her research interests concern how economic subjectivities are created between and among those who perform the majority of SE labor, how their narratives of the solidarity economy cohere and diverge from dominant SE discourses, and how such discourses create a sense of 'movement space'. A native Californian, Lauren now lives in Brooklyn where she tweets about the Solidarity Economy and bad TV at @blactivist.