Conflict Mapping Tools for Analysis and Strategic Engagement
Session Type(s): Training
Training Tag(s): Operations
Starts: Saturday, Jul. 13 1:00 PM (Eastern)
Ends: Saturday, Jul. 13 2:00 PM (Eastern)
Conflict is universally present in interpersonal, organizational, intercommunal and structural settings. Some conflicts are easy to understand, while others seem overwhelmingly complex. In either case, conflict mapping is a versatile tool that can increase understanding of a given setting. This training will introduce various conflict mapping models that you can apply in a wide variety of settings, providing insight into the most effective and impactful areas for engagement and action. Through mapping a conflict setting, participants will gain strategic perspective into a conflict by examining actors, relationships and directions of influence in a conflict and how these insights can inform participants' work.
This training is designed for activists and organizers of all skill levels.
Moderators
Sophie (she/her/hers) is a musician and peacebuilder focused on addressing the roots of structural and cultural violence in the United States. She is passionate about cultivating genuine relationships, facilitating dialogue on difficult topics and shaping transformative learning environments.
Sophie has collaborated with activists and organizers from CODEPINK: Women for Peace, Standing Rock Michigan Tent, Cosecha GR, Kaufman Interfaith Institute, and the Poor People's Campaign and has analyzed conflicts alongside peacebuilders from around the world. Sophie has led trainings in the DC area, on university campuses and throughout the Midwest. She has an MA in Peacebuilding and Conflict Transformation.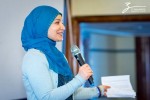 Nadia Hassan is known for her strategic ability to mobilize young people in political movements. She is the founder of Young Leaders Institute, a youth leadership platform that empowers youth toward social entrepreneurship and social innovation. Nadia has led trainings focusing on interpersonal skills development, critical thinking / analysis, understanding the process of problem solving, conflict resolution, cognitive flexibility and transitions, discovering blind spots and implicit bias, ethical leadership, and civics.