Trump's Russia ties: Protecting the Mueller investigation – a strategy discussion
Starts: Friday, Aug. 3 10:00 AM (Eastern)
Ends: Friday, Aug. 3 11:15 AM (Eastern)
In the past few weeks public interest Trump's Russia ties has peaked, and there is increased urgency around protecting the Mueller investigation. This caucus will discuss strategies to resist Russian interference in U.S. elections, protect the Mueller investigation, and proactively defend Democracy from foreign interference.
Moderator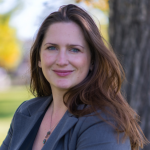 Kaili is Policy and Advocacy Director at Accountable Tech, working to bring about long-term structural reform to tackle the existential threat Big Tech companies pose to our information ecosystem and democracy. Before joining the team at AT, she worked at Mozilla Foundation where she focused on platform accountability around electoral disinformation, algorithmic amplification and consumer privacy.
She has spent more than a decade in the progressive movement organizing for gender justice, corporate accountability, and pro-democracy initiatives. Kaili is based in Colorado and she loves skiing, hiking with dogs, and vegetarian cooking.