The West Virginia Teacher Strike: Sparking a National Movement for Public Education
Session Type(s): Panel
Starts: Friday, Aug. 3 10:00 AM (Eastern)
Ends: Friday, Aug. 3 11:15 AM (Eastern)
February 23 through March 6, West Virginia teachers and service personnel united in a historic statewide strike to demand better healthcare, competitive wages, and respect for the public education system. Faced with ongoing benefit cuts, increased premiums, and ranked 48th in pay, teachers and service personnel began organizing using a secret Facebook group in November 2017 that grew to over 24,000 members. By providing a space for open dialogue and planning, and discussing escalation tactics, a movement was created that ignited the grassroots in not only WV but across the country. This panel will discuss some of the background of the strike organizing, the results, and how it has spread to multiple localities and states.
Moderator
Panelists
After earning my Masters Degree in Secondary Education at West Virginia University in 2009, I was blessed with the opportunity to teach in three nations over the past 9 years, including Canada and South Korea. These experiences taught me that school can and should be different for American teachers and students.
I returned to my home area of Southern West Virginia in 2014 and was saddened at the state of our schools…the money that always disappears, the lack of support for teachers and students, and the erosion of our already meager benefits.
I am a direct descendant of Sid Hatfield, who defended his town of Matewan from anti union thugs in the 1920s. He died for that cause, but the miners still rose up, donned red bandanas (and thus became "rednecks") and fought for the right to organize. Our own government massacred these men on Blair Mountain.
The union is in my blood, and I will always have a stomach for the fight, because my people deserve better. That's why I jumped at the opportunity to start organizing quietly, just waiting for the time to be ripe.
I couldn't have done anything without the love and support of my husband Chris, our two kitties, and my family and friends.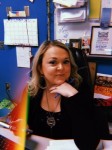 I graduated in 2002 and 2004 from Concord University, cum laude each time, with a BA in graphic design and another in studio art with specializations in drawing and painting. In 2006 I graduated summa cum laude from Marshall University with a MA in Teaching – Art Education, grades Pre-K – Adult. Since then I have obtained additional master's endorsements in counseling and school principalship.
I have been teaching school in WV since 2002. I am beginning my 11th year at Hannan Jr. Sr. High School in Mason County. It is a small 7-12 school (300 students total) and it is a Title I school. There is no place like Hannan and I love my students and the people I work with. In my free time I am a regional scorer of EdTPA portfolios with Pearson Education. I am the treasurer of the WV Dance Education Organization, and a member of the Board of Directors for the WV Dance Company. I am a proud member and the building rep for WV AFT in Mason County.
I am currently the Democratic Candidate for WV House of Delegates in District 14. I was very vocal and demonstrative during the WV Teacher's Strike, and I am proud of the energy that is spreading throughout our country's teaching and union communities.
I have been married for 10 years to Ammed and we have an 8 year old son, Cole. Our home is our haven and we share it with six cats, one dwarf hamster, two hermit crabs, and a bevy of tropical fish.