Film Showcase: "Nuns on the Bus" and "No More"
Starts: Saturday, Aug. 4 3:00 PM (Eastern)
Ends: Saturday, Aug. 4 4:15 PM (Eastern)
NUNS ON THE BUS: Rebel nuns fighting to save our democracy. Come see a special sneak-peek from this documentary in-progress, filmed over the past 6 years with intimate, behind-the-scenes access. Attacked by the
Vatican as "radical feminists," NUNS ON THE BUS tells the story of Sister Simone Campbell and her band of feisty nuns as they fight for the poor and marginalized — and challenge the Catholic Church and US government to do better. The nuns wrestle with their own power and voice as they journey across an increasingly divided America. Join the filmmaker to brainstorm ways we might amplify the nuns' "hero's journey" to empower people of all political stripes to shift our national conversation beyond party politics and division toward middle
ground for care, conversation and reshaping our nation to work for the 100%. Join us on the bus!
Moderators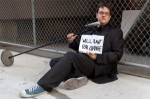 Matthew Filipowicz is a comedian, cartoonist, satirist, and the founder of HeadsOfState.tv. For nearly three years during the Bush administration, Matthew created satirical political animations daily for the website Headzup.tv. His videos garnered millions of views and were featured by the New York Times, CNN, NPR, PBS, HBO, BBC, the Wall Street Journal, as well as countless progressive outlets including the Nation, MotherJones, MoveOn.org, and more.
Matthew is the host of progressive political podcast, The Matthew Filipowicz Show, the national coordinator for Laughing Liberally. He has founded and directed Laughing Liberally and Drinking Liberally chapters in Chicago, Boston, and currently, Milwaukee.

Sundance award-winning filmmaker, tech entrepreneur and engineer. Melissa and her team create stories for change.