Fight Pipelines, Fight Racism: Louisiana's #NoBayouBridge Fight is About More than a Pipeline
Starts: Friday, Aug. 3 10:00 AM (Eastern)
Ends: Friday, Aug. 3 11:15 AM (Eastern)
The #NoBayouBridge short-film series and panel discussion will detail how a fight to stop a 162-mile oil pipeline is about more than resisting the oil industry in Louisiana. It's also about more than just stopping ETP/Sunoco—pipeline companies with some of the worst environmental records in the U.S.—from endangering 700 waterways and 50 miles of the Atchafalaya Basin. It's even more than a fight to stop private and public security forces from repressing activists. While it's all of these, #NoBayouBridge continues the struggle against economic and political elites in Louisiana—whose decisions perpetuate racial and environmental injustice, and land and cultural dispossession—that links back to white settler colonization and slavery.
Moderator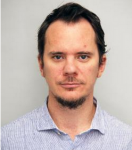 Dominic Renfrey is an Advocacy Program Manager at the Center for Constitutional Rights. Dominic focuses on the intersection of corporate abuses in various activity areas, including international human rights law, the Occupied Palestinian Territories, the operations of private military corporations, and the interference of corporations in the operations of state agencies and decision-making bodies. Dominic is a board member of the Project on Organizing, Development, Education and Research (PODER) in Mexico.
Before joining CCR, Dominic worked with the International Network for Economic, Social and Cultural Rights (ESCR-Net). He also worked alongside grassroots activist organizations in Australia and Asia providing advocacy support in national, international, and corporate-centered campaigns to seek accountability for corporate human rights abuses.
Panelists