Event Planning Like a Pro: How to Plan Events that Inspire Change
Session Type(s): Training
Training Tag(s): Grassroots Organizing/Campaigns
Starts: Saturday, Aug. 4 3:00 PM (Eastern)
Ends: Saturday, Aug. 4 4:15 PM (Eastern)
Events are powerful experiences. They are spaces in which people come together to build vision, to strategize and to learn from each other. In this session, we will go over a standard event planning cycle and best practices. We will share actionable tips for planning more diverse and inclusive events while walking you through how to plan an event that will move your audience to action and further engagement with your cause long after your event. Regardless of your experience, you will walk out of this session feeling ready to plan your next campaign launch, organizing training, panel discussion, and more, just like a pro!
Trainers
Devorne Hormeku is the Social Media and Content Manager at Color of Change – the nation's largest online racial justice organization. Prior to Color of Change, Devorne worked for All Out an international LGBTQ non profit. During his tenure at All Out, Devorne was frequently the logistics lead for small local and international events that included high-value fundraising events, staff retreats, and panel discussions.
Devorne has a long history of LGBTQ justice work and a professional background in Entertainment Public Relations. He is an LGBTQ student mentor and a regular volunteer at the prestigious GLAAD Media Awards.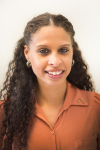 Suhayl Santana is the Events Manager for Amnesty International USA, where she leads the national event planning strategies that elevate key campaigns. She started her event planning journey as a student activist & has now planned over 150 events ranging from small trainings & campaign launches to large nationwide conferences & performances.
In addition to her work, she mentors first-generation immigrant students on their path to college & is a leadership coach for young women of color.