Session Type(s): Training
Training Tag(s): Communications
Starts: Friday, Aug. 3 5:15 PM (Eastern)
Ends: Friday, Aug. 3 6:30 PM (Eastern)
Every year Black people report instances of anti-Blackness at the conference you are attending (anti-Blackness defined as the fear, devaluation or abuse of Black people). Come to this training and be part of changing that. Learn to communicate your true intent as white accomplices interested in providing relevant support for Black people. Join Black Lives Matter: Houston, BiNet USA and Black bisexual, queer and trans organizers together in one room, invested in one idea … teaching YOU how to shut it down, so we don't always have to.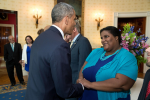 There were so many aspects to Faith Cheltenham's life and work––writer, activist, lecturer, poet, digital strategist, stand up comic, survivor ––that she developed a single unifying "theory of Faith." (It might be easier if you keep in mind Faith lives with hyperthymesia, or the inability to forget any of her own memories.) Then you too might be able to keep thefayth and settle into a future where gender and sexuality quite easily bend and every single Black life matters.
Faith got her start in LGBT advocacy as a Human Rights Campaign intern on the Gore 2000 campaign, and in 2002, she co-founded UCLA's BlaQue for LGBT/SGL students of African descent. In 2006, she appeared in the Emmy winning reality series on race in America, "Black. White." produced by Ice Cube.
After spending time working in corporate America doing digital strategy for Sarah Ferguson, the Duchess of York and co-creating and launching tor.com for Macmillan Books, she began to focus full-time on bisexual advocacy. In 2012, she was named one of The Advocate's "Forty Under 40" and was appointed to the University of California's LGBT Task Force. In 2013, Faith was the Co-organizer of the first Bisexual Community Issues Roundtable at the White House & in 2014, was honored to be a stage participant alongside President Obama as he signed the Executive Order protecting LGBT employees of federal contractors from discrimination.
Between 2015 and 2016, Faith co-organized four meetings with the Obama White House including the first livestreamed Bisexual Community Briefing at the White House in 2016. Every year, together with GLAAD, BiNet USA co-sponsors Bisexual Awareness Week (#biweek), a social media experience seen by millions that Faith co-created in 2014.
As a performer, panelist, or lecturer, Faith has spoken at locations as varied as San Diego Comic Con, New York Comic Con, Netroots Nation, Case Western University, UCLA & Yale University, on topics like intersectional feminism in culture, movies, and comics, histories of ancient African sexuality and bisexual intersectionality.
An award-winning journalist and writer who has had her spoken word poetry featured on Genius, Faith won her first writing acknowledgment from Parade Magazine at age fifteen for her musings on the racism she experienced as a Black Star Wars cosplaying kid in her native San Luis Obispo, California. Since then she's been acknowledged by GO Magazine and The National Association of LGBT Journalists as a Black bisexual journo-advocate.
Faith has been published widely in South Florida Gay News, Advocate, Huffington Post, Washington Blade, and her personal blog, thefayth.net. She has also been featured in various publications and outlets, including CNN's Headline News, LA Times, Think Progress, Bleeding Cool, The Daily Beast, and New York Magazine. Faith identifies herself as a "Black bisexual intersex queer woman of color who came up transracial." She's also the proud mom of a gender creative kid, Storm (age 6).
Other sessions: LGBT People of Color Caucus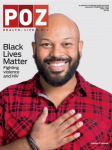 Ashton P. Woods is an Activist and native of New Orleans, LA that now resides Houston, TX. He began his life as an activist during his freshman year of high school and never stopped fighting for those who are the most marginalized. Ashton's willingness to fight comes from his thirst to selflessly create change and spread universal equality. Because he knows what being marginalized looks and feels like, Ashton openly identifies as Gay/SGL, Atheist, HIV positive & unapologetically Black. While none of these things completely define Ashton, they highlight intersectionality and teach that being Black is not a monolith. In Ashton's View justice must be intersectional and it is highlighted by his involvement in the Black Lives Matter Movement, SGL/LGBT rights, and equality for all when it comes to discrimination and overall fairness in society.
Other sessions: LGBT People of Color Caucus