Digital Advertising for Campaigners (Sponsored Training)
Session Type(s): Training
Training Tag(s): Basic Online Organizing, Advanced Digital Organizing
Starts: Thursday, Aug. 2 3:30 PM (Eastern)
Ends: Thursday, Aug. 2 4:45 PM (Eastern)
Room: R06
Over the past few cycles, progressives have fallen behind on digital advertising—even as voters are increasingly spending their time online. In previous election cycles, Republican campaigns have outspent Democrats online, allowing the right to seize the online conversation and define progressive candidates on their own terms. At the same time, many progressive campaigners have kept their distance from online advertising, relying on consultants and outside advisers instead of building in-house teams of digital staffers and building a larger digital infrastructure. To start reclaiming the internet, join Priorities USA for this introductory look at digital advertising and learn how to apply these best practices to your work. This training is sponsored by Priorities USA.
Trainers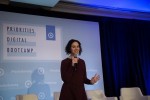 Elyssa Feder is the Deputy Director of Training and Fellowships at Priorities USA. Prior to her role at Priorities, she worked as an organizer and lobbyist at J Street for five years. Following the 2016 election, she founded Rising Organizers, a non-profit dedicated to training the new generation of activist groups forming to resist the Trump presidency, which she runs concurrently with her role at Priorities. She holds a B.A. in International Relations in International Affairs and Women's Studies from The George Washington University and an MSc. in Comparative Politics from The London School of Economics.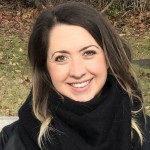 Madeline is a marketing professional with nearly a decade of experience providing strategic counsel to top political organizations and Fortune 100 companies, including Bloomberg Philanthropies, EMILY's List, Uber, Hillary for America, the DCCC, and the DNC. Currently, she helps train the progressive community on digital advertising as Priorities USA's Director of Training and Fellowships. Previously, Madeline was Director at Bully Pulpit Interactive where she helped raise money, win elections, and bolster reputations. She is a veteran of four political cycles, one presidential campaign, has launched organizations and managed budgets up to $100MM. Her work has led to six Pollie awards and she has spoken at Netroots Nation, RootsCamp, America Votes State Summit, GW Women in Business and Campaign Tech East conferences.