California Values Caucus
Starts: Thursday, Aug. 2 1:00 PM (Eastern)
Ends: Thursday, Aug. 2 2:00 PM (Eastern)
Room: 227
Gavin Newsom will be the next Governor of California (whether you like it or not). How do we make sure he makes California a hub of progressive transformation that sets the example for the rest of the country?
Moderators
Cofounder, Climate Hawks Vote, only grassroots-funded organization to elect and hold accountable climate leaders. Elected chair, California Democratic Party Environmental Caucus. Loud on Twitter.
Other sessions: Organizing Around Jerry Brown's Legacy, the Global Climate McSummit, Climate Caucus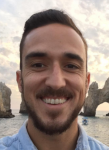 Tim Molina is the Organizing Director for Courage Campaign, a grassroots organization that fights for a more progressive California and country. As Organizing Director, Tim is in charge of mobilizing thousands of Californians on the ground, throughout the state and in Sacramento, to hold Democrats accountable to progressive priorities and the needs of everyday Californians. Before coming to Courage, Tim was at Brave New Films as their Outreach Director where he directed national campaigns around BNF's full-length documentaries and short videos, working on issues ranging from mass incarceration, workers rights, immigration, and U.S. wars. Prior to joining BNF, Tim worked with MoveOn.org as a National Field Organizer, where he oversaw over 1 million MoveOn members in CA, HI, and AK. Tim started his organizing career as a Labor Organizer with SEIU Local 1021 based out of San Francisco. Originally from Los Angeles, Tim is currently based in Sacramento.