Beyond Fake News: Opposition Research in a Digital World
Session Type(s): Panel
Starts: Thursday, Aug. 2 2:00 PM (Eastern)
Ends: Thursday, Aug. 2 3:15 PM (Eastern)
Progressive opposition researchers make sure that our organizations are armed with the knowledge and messages they need to fight back on the ground and online, but 2018 is a complicated year for research. At a time when scandals play out in the public eye, bots leverage fake news to sway elections, and personal data is increasingly less secure—what is the role of opposition research in digital campaigning and how can we break through?
Moderator
Patrick McHugh is a political professional with over a decade of experience working on campaigns at all levels of the ballot. He is currently the Executive Director of Priorities USA, a progressive advocacy organization that is fighting to mobilize and persuade every American possible on the important issues that affect their lives — and building a state-of-the-art research, digital, and communications infrastructure to do it. He also serves as President of the Priorities USA Foundation, a 501(c)3 organization that is dedicated to defending the rights of all citizens to vote. During the 2016 election cycle, he was the Deputy Executive Director at Priorities USA Action where he managed the paid media operation and oversaw messaging, polling, and research for the organization. From 2011 thru 2014, he served as the Research Director for the Democratic Senatorial Campaign Committee (DSCC). Prior to joining the DSCC, he served in a senior role on multiple successful Senate campaigns including as the Research Director on Senator Richard Blumenthal's 2010 election and as Deputy Research Director for Senator Kay Hagan's 2008 election, as well as the Democratic National Committee.
Panelists
Jenna Kruse is the Vice President of Research at EMILY's List, where she manages information-gathering and strategic research. Jenna works directly with campaigns, party committees, and partner organizations to ensure the opposition is held accountable while the great work of EMILY's List-endorsed women is seen and heard. Most recently, Jenna served as EMILY's List's Research Director where she maintained a portfolio of candidate records and tracked the legislative assaults on reproductive health and women's rights coming from a Republican Congress.
Jenna previously served three election cycles at the DCCC in various roles on the coordinated and independent expenditure teams. She has worked hand-in-hand with over 50 campaigns in navigating both self- and opposition research and producing actionable products that led to many November successes. Jenna also served as Research Director for Senator Brian Schatz of Hawai'i.
Jenna is a native of a couple small towns near Springfield, IL. She is an alumna of Miami University (Ohio), where she was a member of the Track and Cross Country teams and earned degrees in Mass Communication and Political Science. When not at EMILY's List, Jenna enjoys running, the occasional triathlon, NPR in the mornings, and sweetcorn with plenty of butter.
Ellie Langford is Opposition Research Director at NARAL Pro-Choice America, where her team works to understand the anti-choice movement's efforts to chip away at reproductive rights in America and sound the alarm about their growing influence within the Trump administration. Before joining NARAL, Ellie worked in audience research, qualitative data analysis and message development at Hattaway Communications, building tested communications strategies for major nonprofits and foundations. She is also a Media Matters alum, where she monitored extremist ideologies online, wrote about misinformation in the media, and survived the Fox & Friends beat.
Dorothy Scheeline is the Research Director at End Citizens United. Her background is in both political research and nonpartisan advocacy. After starting her career in progressive politics in Massachusetts, she traveled to DC where she gained extensive experience in political research. In her previous roles at the Democratic Senatorial Campaign Committee and American Bridge she provided research for the nation's most competitive senate races. Before her career as a researcher, she was part of the electoral reform movement, advocating for changes in our elections system from coast-to-coast.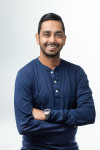 Shripal Shah, a veteran political operative with more than 18 years of electoral and advocacy experience, leads Left Hook's Public Affairs practice based out of Washington, DC. Widely recognized as an expert in strategic communications and campaign management, he currently advises issue advocacy organizations and corporations on communications strategy, media relations, and crisis communications. Prior to joining Left Hook, he oversaw a $100 million program at one of the Democratic Party's largest Super PACs in the 2020 election cycle where his team helped the Democrats take back the White House, win back the Senate, and keep control of the House. Over the course of his career he has advised dozens of candidates for office, members of Congress and Senators on strategic messaging and campaign strategy. He is a graduate of Eastern Michigan University and resides in Washington, DC with his wife and two sons.