Be Bold! 501(c)(3) Election Year Advocacy
Session Type(s): Training
Training Tag(s): Movement Health & Operations
Starts: Thursday, Aug. 2 11:30 AM (Eastern)
Ends: Thursday, Aug. 2 12:45 PM (Eastern)
Election day will be here before you know it! Get a refresher on what a 501(c)(3) organization may do and say during an election season to avoid intervening in a campaign for or against a candidate. During this session, you'll learn how to safely talk about your issues and elected officials during election season; how to conduct nonpartisan voter outreach efforts; how to educate voters about the candidates through debates, forums and questionnaires; and how to ensure that staff and volunteers' election activities are not attributed to the organization.
Trainer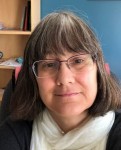 Ronnie Pawelko is Elections Counsel for the Bolder Advocacy program at Alliance for Justice. She consults with and trains nonprofit organizations on the rules and strategies for legal and effective advocacy.
Before joining AFJ, Ronnie was General Counsel at Family Planning Advocates of New York State where she focused on reproductive health care policy and worked with New York's Planned Parenthood affiliates to ensure their advocacy and political activities were conducted in compliance with applicable laws and regulations. She also served as Treasurer for the Planned Parenthood Advocates of New York PAC and the Planned Parenthood Advocates of New York Political Committee. Previously, Ronnie served as Health and Human Services Team Counsel for the New York State Senate and as staff attorney for the MergerWatch Project. Ronnie received a BA from Russell Sage College and a J.D. from Albany Law School.