Ready to Resist: How a New Collaboration Used Technology and Mass Organizing to move Tens of Thousands into Action
Session Type(s): Panel
Starts: Thursday, Aug. 10 10:30 AM (Eastern)
Ends: Thursday, Aug. 10 11:45 AM (Eastern)
Since January, an emerging collaboration of organizations have partnered on strategies and a series of mass actions and phone calls to build and bolster just part of the resistance movement. Over Trump's first 100 days, MoveOn, Working Families Party, People's Action and Center for Popular Democracy Action have organized a series of "Ready to Resist" calls on Sunday evenings. The calls have become a locus of energy for progressives and have taken on a life of their own: over 50,000 grassroots activists have joined many of the calls; Senators and progressive leaders have spoken; and most importantly, the calls have moved tens of thousands of people into consistent, nearly weekly action against the Trump agenda.
Moderator
Mehrdad Azemun is Senior Strategist at People's Action, an economic and racial justice organization working in 30 states and at a national level. Mehrdad has over 20 years of experience running electoral and legislative campaigns with immigrant communities at the state, regional, and national/federal level. His roots are in the immigrants rights movement and community organizing.
Mehrdad ran a successful Deep Canvass program in North Carolina, Pennsylvania and Michigan in fall 2019 that focused on immigration and health care. He is helping build People's Action's electoral program for this fall.
Mehrdad is an immigrant from Iran.
Panelists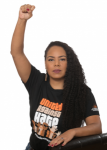 Jennifer Epps-Addison serves as the President and Co-Executive Director of the Center for Popular Democracy and CPD Action's network of partner organizations throughout the country. As President, Jennifer leads CPD's racial justice campaigns, and works closely with its network of local affiliates.
Jennifer boasts over 15 years of community organizing experience, advancing systems-change campaigns for economic and racial justice. Prior to joining CPD, Epps-Addison was the Chief Program Officer for the Liberty Hill Foundation, a social justice foundation in Los Angeles that funds grassroots community organizing campaigns for social change. A native of Milwaukee, WI, Epps-Addison helped coordinate the Fight for $15 campaign as the Executive Director of Wisconsin Jobs Now.
Epps-Addison is the recipient of the 2013 Edna Award from the Berger-Marks Foundation, which honors an outstanding young woman each year for her leadership in fueling social change. In the same year, she was named an 'Activist to Watch' by Bill Moyers. She earned her BA in Political Science and Women's Studies and her JD from the University of Wisconsin. Prior to her return to organizing, Jennifer was a trial attorney in the Wisconsin State Public Defender's Office.
Epps-Addison, a leader who has deep experience building power in communities from the ground up, joins the Center for Popular Democracy at a time when local community voices matter more than ever in creating a nation-wide movement to fight for dignity and opportunity for all people. She brings with her a commitment to supporting and growing black-led organizations, strengthening investments in power-building efforts in communities of color, and deepening organizing strategies that build power with the white working class by addressing racism head-on and building authentic alliances based on shared interests and shared values.
Awards and recognition:
• 'Activist to Watch' by Bill Moyers in 2013
• 2013 Edna Award from the Berger-Marks Foundation, which honors an outstanding young woman each year for her leadership in fueling social change.