Protecting the Movement Online: Digital Security 101
Session Type(s): Training
Training Tag(s): Movement Health & Operations
Starts: Thursday, Aug. 10 1:00 PM (Eastern)
Ends: Thursday, Aug. 10 2:15 PM (Eastern)
Progressive organizations can't make change happen if they're breached, and right now too many of us are at high risk. Although cyber threats are not unique to the political space, cyber security is a threat we face as a community and one we need to address together. Come learn how to think about your threat model, how to identify phishing (the primary method of intrusions), how to add two-factor authentication on various services, and how to use password managers. In the process, you'll hopefully become vigilant not only about your own security, but the security of those with whom you interact.
This training is an introductory level course in online security. It is not intended for people who already have strong security in place.
Trainers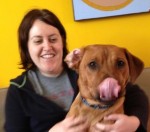 Shauna Daly has worked on campaigns and progressive organizations around the country, including the DNC, American Bridge and Obama for America. She is GIAC-certified in Security Leadership and is the cofounder and Executive Director of Progressive Security Corps.