Organizing the Unorganized: Getting Your Organization or Movement off the Ground
Session Type(s): Training
Training Tag(s): Grassroots Activism & Campaigns
Starts: Friday, Aug. 11 2:30 PM (Eastern)
Ends: Friday, Aug. 11 3:45 PM (Eastern)
Organizing in a new area can be challenge, and some efforts die before they even get started. This training is designed to help grassroots activists learn how to create an effective organization. We'll cover topics like outreach, organizational structure and communication, and how to engage new populations—helping you more effectively organize and win.
This training is primarily designed for those who are starting or recently started a campaign/grassroots movement.
Trainer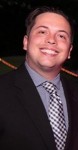 I have always considered myself to be an activist. While in middle school, my father drove me to Montgomery, AL, our state capital. Why? So I could read from my Alabama Civics Textbook about the need of separation from church and state as others were protesting to keep the Ten Commandments in the capitol. Since then I have worked with many political campaigns in my community. A graduate from the University of Alabama, I taught middle school for 3 years before embarking as an organizer in New Hampshire during the 2016 elections. Now I am back home and working as an organizer on grassroots movements across the area.