How to Gather and Use Audience Insights in Your Campaign
Session Type(s): Training
Training Tag(s): Advanced Digital Organizing
Starts: Saturday, Aug. 12 3:00 PM (Eastern)
Ends: Saturday, Aug. 12 4:15 PM (Eastern)
The Mobilisation Lab has developed a unique campaign planning process that blends high-performing advocacy campaign strategy tools and collaborative processes with proven methods inspired by design thinking. Audience sensing—the process of gaining insight into motivations, needs, barriers to action, and context for the audiences that matter for your campaign or project—is a core part of this methodology and a foundation of human-centered design. In this session, you'll learn how to frame and conduct audience sensing in a low-cost, rapid way—and how to use the insights you gather to improve your campaign or project. This process was designed with people-powered advocacy campaigns in mind, but can also be applied to electoral work.
Some familiarity with campaign planning and a need to plan campaigns in some form as part of your life (could be your job or as a volunteer) is needed. Those with some background in facilitation will likely get even more out of this, but it's not required.
Trainer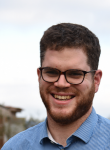 Ben Simon has been leading and advising on modern campaigns for more than a decade. Prior to joining the Mobilisation Lab in 2013, Simon guided digital advocacy for the Democratic Party, Mozilla, and a range of other campaigning organisations. Simon is an experienced trainer, meeting designer, and facilitator, having led workshops and trainings all over the world.
He got his start in campaigning through the netroots; his first job in politics was as deputy communications director on the Ned Lamont for Senate campaign in 2006. He lives with his partner, daughter, and dog in San Francisco.