How to Embed Creative Digital Storytelling Into Your Activism
Session Type(s): Panel
Starts: Thursday, Aug. 10 2:30 PM (Eastern)
Ends: Thursday, Aug. 10 3:45 PM (Eastern)
Direct action, protest, and mass mobilization have long helped progressive organizers win for our movements and look to be a fixture of resistance in the Trump era. But the way we communicate this activism is changing. Digital tools have democratized the way we tell stories and shifted the balance of power from institutions to activists, opening critical opportunities for engagement and movement building. This panel will explore how we we can use these opportunities to tell the most compelling stories possible. We'll hear from digital practitioners on established and emerging tools for storytelling, activists on their experience as embedded digital storytellers, and organizers on how to harness these stories for meaningful policy change.
Moderator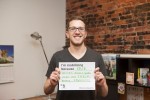 Ryan Schleeter is an editor with the Greenpeace USA online team, where he builds storytelling and engagement strategies to help win campaigns. His writing has appeared in Grist, National Geographic, TruthOut, and more.
Panelists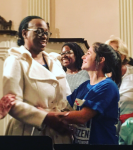 Courtney joined Public Citizen in June 2015, serving as the digital strategist for the organization's Democracy Is For People Campaign. She led the digital effort for the 2016 Democracy Awakening mobilization, comprised of 300 national groups from NAACP and Greenpeace to AFL-CIO and NOW, and continues to manage the coalition's digital presence. In that capacity, she uses digital storytelling to bring actions and protests to life online and build a narrative around the national movement to restore the Voting Rights Act and rein in the flood of undisclosed money corrupting our elections. Utilizing digital tools, Courtney has helped grow the democracy movement and engage prominent public figures like Shailene Woodley, Rosario Dawson, Piper Perabo, Van Jones, Sophia Bush and others.
Sarah is the digital director for Greenpeace USA. Prior to Greenpeace, she has worked in the non-profit/progressive world for almost two decades, including stints with Sierra Club, Obama for America, and America Votes. She has degrees from Macalester College and the Harvard Kennedy School.
She lives in Seattle, where she can be found walking her dog and telling people about the time she saw "Hamilton" on Broadway (of course she's seeing it again when it comes to Seattle).
Amir Salehzadeh is a digital strategist at Precision Strategies with both online and offline experience. Most recently, Amir was on the FWD.us team where he worked closely with technology company founders, communications, and PR teams, and volunteers to make immigration the salient issue of the 2016 election cycle through compelling stories. His work speaks to the power of storytelling to move policymakers and translate into wins for our movements.