Getting Started with Facebook Live: How to Amplify Your Action and Bring More People into the Movement
Session Type(s): Training
Training Tag(s): Advanced Digital Organizing
Starts: Friday, Aug. 11 1:00 PM (Eastern)
Ends: Friday, Aug. 11 2:15 PM (Eastern)
Join this training and learn how to use Facebook Live to reach tens or hundreds of thousands of people with your action or protest. In this interactive workshop, we'll break down the components to a successful Facebook Live broadcast: how to script your broadcast, how to build an audience, how to interact with viewers and how to move people from Facebook spectators to movement participants. You'll also leave with a list of inexpensive gear that will improve the quality of your broadcast.
This training is best suited for those who use dramatic actions to achieve their goals. The lessons from this training can be used by an activist with an Indivisible group, a local or statewide organization or a national organization.
Trainers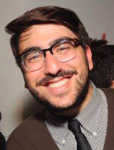 Yonah Lieberman is a Brooklyn-based founding member IfNotNow, the movement to end the American Jewish community's support for the Occupation. Over the past three years, he has coordinated IfNotNow's Digital and Communication programs, which are entirely led by volunteers. Before organizing with IfNotNow full time, he spent about two years as a tenant organizer in Bronx. He is originally from Washington, DC and went to the University of Michigan.
Thaís is an undocumented digital strategist and campaign manager for CREDO Action. Prior to CREDO, Thaís was the digital lead for Movimiento Cosecha where she experimented with using digital tools and tactics to reach communities of color and immigrants to move them into offline action. Thaís was the national coordinator of the #SanctuaryCampus movement and mobilized over 150 campuses to walk out following the election of Trump.