Friend-to-Friend Outreach: Going Beyond Phone and Door with VoterCircle
Session Type(s): Training
Training Tag(s): Grassroots Activism & Campaigns
Starts: Saturday, Aug. 12 1:30 PM (Eastern)
Ends: Saturday, Aug. 12 2:45 PM (Eastern)
VoterCircle is a powerful and easy to use friend-to-friend outreach platform that enables your supporters to leverage their personal relationships to benefit your organization or campaign. Join us and learn how to leverage your supporters passion, and implement a friend-to-friend outreach program at at every stage of your campaign.
We'll show you how to identify and locate super influencers in your electorate, enable hundreds of your supporters to reach hundreds of their friends (helping you get thousands of volunteers), and dramatically reduce the time and cost of voter outreach, all without breaking the bank.
VoterCircle has been recognized as a finalist in the 2017 Campaigns and Elections Reed Awards in two categories: Most Innovative Product of the Year and Best Email Tool.
Come learn what VoterCircle can do for you!
Trainer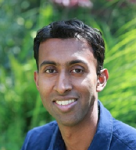 Sangeeth Peruri is the CEO and founder of OutreachCircle, a digital organizing platform that harnesses the power of personal relationships to inspire action and drive change. OutreachCircle makes it easy for volunteers, activists and donors to support their favorite cause, campaign or organization. Sangeeth, who recently served as the President of the Los Altos School Board, now serves on the boards of Orenda Education, Think Together and the Boys & Girls Clubs of the Peninsula. In his spare time, he is a fitness fanatic and competed on American Ninja Warrior 6.