Forging a State-led Path to Climate Justice in the Era of Trump
Session Type(s): Panel
Starts: Thursday, Aug. 10 1:00 PM (Eastern)
Ends: Thursday, Aug. 10 2:15 PM (Eastern)
In the face of the Trump administration's sweeping rollbacks of federal climate and environmental justice programs, it's now up to states to lead the fight for a safe, just and sustainable future. Campaigns have begun popping up across the country to pass state-level climate policy that prices pollution to fund solutions like renewable energy for frontline communities and a just transition for affected workers. Representatives of burgeoning campaigns in CA, NY, OR and WA will discuss the challenges and opportunities of this new phase in the American climate movement, and how we can unite labor unions, low-income communities of color, and environmental groups to forge a state-led path to climate justice, for the next four years.
Moderator
Michelle Romero is Deputy Director of Green For All, where she works to end environmental segregation in America by prioritizing communities of color in climate policy.
In March, Michelle coordinated a bus tour of Flint, MI with Van Jones, Mark Ruffalo, Tom Steyer, and Vien Truong, to expose the environmental racism that is the #FlintWaterCrisis and uplift community solutions to #FixFlint.
Michelle also coordinated national partners to co-create and publish a series of toolkits – the Clean Power for All Solutions Series – to give states needed policy guidance to ensure the Clean Power Plan's benefits reach frontline communities.
Immediately prior, Michelle worked in issues management and policy analysis for the University of California system, and spent five years at Greenlining Institute, a California-based nonprofit, where she did extensive work to shape the state's 2011 Citizen Redistricting Process and expand opportunities for people of color in the electoral process.
Other sessions: Climate Change: Who Will Be Hit First and Worst if We Don't Act?
Panelists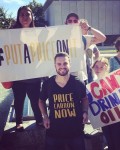 Tom is the National Field Organizer for Our Climate and the Project Manager at the Community Home Energy Retrofit Project. He is a Senior at Pomona College and studies Public Policy Analysis and Politics. Prior to joining the these groups, Erb was the Congressional Liaison for the #4Billion4Us campaign, a communications intern for Congressman Eric Swalwell, a climate intern for United States Senator Brian Schatz, and the Co-President of a carbon pricing campaign at the Claremont Colleges. This summer he was also a field intern for Congressman Scott Peters. He has spoken on behalf of climate activism in the National Geographic Documentary Series Years of Living Dangerously, at the 2016 Democratic National Convention, and at the World Bank Digital Media Zone. In April of 2017, he was the Youth Spokesman at the World Bank's Carbon Pricing Leadership Coalition's High Level Assembly. He is originally from Poway, CA.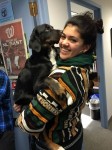 Shilpa Joshi is Coalition Director for Renew Oregon. Before joining Renew, Shilpa worked as a grassroots organizer, coalition coordinator, and lobbyist for the Chesapeake Climate Action Network. She got her start by organizing on campus, then with Energy Action Coalition for Power Shift, and around Washington, DC with DC Action Lab and the Washington Peace Center. She cares deeply about building robust, healthy communities, cooking good food, and taking time to experience the natural world.
Dan Sherrell is the Campaign Coordinator for New York Renews, a coalition of more than 100 labor unions, community groups, and environmental justice organizations, fighting together to pass landmark climate justice policies that move New York to 100% renewable energy, while supporting workers, creating jobs, and protecting frontline communities. He cut his teeth in the student fossil fuel divestment movement, and prior to New York Renews helped organize the People's Climate March,and run a successful campaign to retire New York's coal plants and secure transition funding for plant workers. He lives in the Bronx.