Fired Up and Burnt Out: Keeping It Together in Uncertain Times
Session Type(s): Training
Training Tag(s): Movement Health & Operations
Starts: Friday, Aug. 11 1:00 PM (Eastern)
Ends: Friday, Aug. 11 2:15 PM (Eastern)
How can we keep ourselves grounded as we participate in this movement moment? In our current political climate, we're seeing many new activists and increasing momentum but also increasing burnout and despair. The Icarus Project works at the intersections of social justice and mental health. Join us for a workshop on how to collectively address burnout and make sure our movement work is sustainable. This hands-on workshop will use The Icarus Project resources, group exercises, and role plays to help activists get tools for sustainable resistance.
This training is for all audiences.
Trainers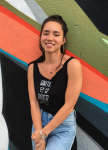 Natalie Byul Yoon is an organizer coming out of the student labor movement. At The Icarus Project, she supports strategic development and operations. While working as an organizer with different labor and student organizations, Natalie found herself struggling with severe anxiety and depression and recognized that this is a common struggle for movement leaders who often don't have access to the support they need. She is now pivoting to dedicate her work to supporting the spiritual, emotional, and mental well-being of organizers and activists. Natalie currently lives in Chicago, but has great love for her homes in Columbus, Ohio and Seoul, South Korea.