Session Type(s): Training
Training Tag(s): Communications, Advanced Digital Organizing
Starts: Thursday, Aug. 10 2:30 PM (Eastern)
Ends: Thursday, Aug. 10 3:45 PM (Eastern)
We've fought back from a fake news attack on Planned Parenthood, helped Bernie expand his tent in Iowa, and suffered as we watched Rob Quist get smeared online in Montana. Now we want to share our learnings and train you on the best practices in fighting fake news and digital political warfare. In this session, we'll cover best practices in SEO basics and talk about what the other side has been doing to launch attacks on candidate credibility. Then we'll show you how to fight back with your own credible, creative content.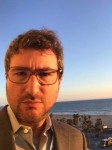 Dan Beckmann is a New Media entrepreneur and award-winning journalist with a career spanning over a decade, who founded IB5k, a civically-minded digital agency born out of Obama's 2008 campaign, Programming Corporation of America (PCA) rebuilding local programming across American, Correlate.io a data analytics platform & Schmooru, a worldwide network of the best creatives in a generation. He also serves as a special advisor to the US Congress on digital media initiatives.
Through IB5k, Dan has worked to build communications infrastructure for the US Congress and make the legislative body more open through various ongoing digital initiatives. PCA is currently building creative clusters in early primary states with the intention of building community through new local video programming, distributed through Hearst, Gannett and other properties.
During Obama's historic 2008 New Media campaign, Dan worked in the Chicago headquarters, producing supporter-generated and viral initiatives. He piloted several new video concepts to help voters better understand the candidate's positions during the critical home stretch of the campaign.
Before leaving to work for Obama, Dan worked as a Creative Executive for the cable network Current TV, where he helped develop a "Collective" model for production through establishing and maintaining a network of filmmakers and journalists from around the world. While there he was also instrumental in developing new initiatives ranging from new show concepts to ways to integrate the web into a traditional television product which help to contribute to Current winning the 2007 Primetime Emmy award for Most Interactive Television Network. Dan also spent over 4 years at ABC News where helped launch their User-Generated product "Be Seen, Be Heard", created an internal beat unit to generate original reporting and was credited with coming up with the concept for ABC's first podcast at ABC News Radio before the word "podcast" existed. He also was part of the production team that won a George Foster Peabody award for the investigation into Congressman Mark Foley. His multi-platform reporting during Hurricane Katrina was featured on Nightline, Good Morning America and ABC News.com, Radio and ABC's digital television network. During the 2004 election, Dan produced coverage at every major event that cycle from the New Hampshire primary to both conventions — culminating with the Presidential Debate moderated by ABC's Charles Gibson at his alma mater, Washington University.
Dan holds a PHD in Media Philosophy from the European Graduate School in Saas Fe, Switzerland, a Masters in Broadcast Journalism from Northwestern's Medill School of Journalism, & a Bachelor's degree in Political Science and American Culture from Washington University in St. Louis . A native of Toledo, OH, he's now based in San Francisco & Brooklyn.