Email 101: Best Practices for Running an Effective Email Program
Session Type(s): Training
Training Tag(s): Basic Digital Organizing
Starts: Thursday, Aug. 10 10:30 AM (Eastern)
Ends: Thursday, Aug. 10 11:45 AM (Eastern)
Come to this training and learn best practices for running an effective email program for your non-profit or campaign, as well as best practices for writing advocacy and donation emails. This training is geared toward experienced non-profit or campaign people who are now in charge of their first mass email program. Prior mass email writing knowledge is helpful but not required.
This training is ideal for those who want to learn more about mass email programs and which tools they can take advantage of in order to create an effective campaign on the local level. Prior CRM knowledge is not necessary.
Trainer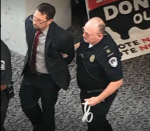 Drew has been an organizer and activist for more than 20 years – mostly with climate justice and environmental groups. In 2008, he left a good job in Vermont to work with MoveOn during the Democratic Primary. He went on to work for Democratic candidates and aligned initiative campaigns from California to North Carolina. In 2010, he started PowerThru Consulting to help progressive candidates and campaigns use digital tools to build bigger, better field campaigns and win. These days he works with our clients to protect endangered species, fight fracking, Divest from fossil fuels and more. In his spare time he's founding his fifth new non-profit and serves on the board at VPIRG. In addition to politics, he likes cooking, cats (the internet and the real kind), hiking, whisky and dancing. Bonus points if you mix 2 or more.
Other sessions: Running from Trump, Running for the People