We're Taking on Wall Street and the Big Banks
Session Type(s): Panel
Starts: Saturday, Jul. 16 2:30 PM (Eastern)
Ends: Saturday, Jul. 16 3:45 PM (Eastern)
It's no secret that Wall Street billionaires have rigged our economy and our democracy. Come learn about the exciting next stage of Wall Street reform from the activists and elected officials who are on the front lines. We'll discuss innovative programs to engage millions of Americans and our plan to pass key pieces of legislation that will help us fix our financial system and make it work for ordinary Americans.
Moderator
Panelists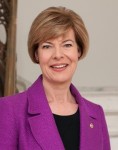 Tammy Baldwin is a US Senator representing the people of Wisconsin.
Renata Pumarol is the Communications & Social Media Director at New York Communities for Change (NYCC). NYCC is a leading progressive organization in New York building people power thru neighborhood, tenant and worker organizing.
As the Communications Director of New York Communities for Change, Renata has worked on campaigns such as the Fight for $15, Hedge Clippers, Don't Sell Our Homes to Wall Street and Take On Wall Street.
Renata holds a degree in Communications from Baruch College and a M.S. in Citizenship & Human Rights from the University of Barcelona.
Renata grew up in Santo Domingo, Dominican Republic and has survived 14 years in New York.
Bret Thompson is the Online Director for Public Citizen's Congress Watch division. He has almost 10 years of on the ground experience advancing progressive politics, most recently working on marijuana legalization and protecting women's access to health care.