Master Class: Nationbuilder
Session Type(s): Training
Training Tag(s): Master Class
Starts: Thursday, Jul. 14 11:30 AM (Eastern)
Ends: Thursday, Jul. 14 12:45 PM (Eastern)
The Master Class program is focused on the specific tools that organizers use every day, and helping intermediate users become efficient, effective power users. Feel free to bring tool-specific questions to the session.
This master class will focus on the tactics for smart rapid response campaigning on NationBuilder. We'll also cover some important new features that are particularly relevant for progressive campaigners looking to collaborate, build coalitions, and win together. We'll focus on four pillars of smart rapid response: aying the groundwork (translating your ladder of engagement into paths and goals), identifying your audience and asks (smart targeting through advanced filtering), creating and launching campaign assets including action pages, and working in coalition (leveraging "tag sharing" for shared growth, mutual data enrichment, and building power.)
Trainers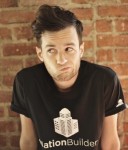 Alex Stevens is a Senior Community Strategist at NationBuilder, where he helps progressive advocacy groups and community organizations develop and leverage successful digital organizing infrastructure and technique.
Prior to joining NationBuilder, he was a co-founding organizer of 99Rise where he served as National Digital Director; a co-founder and Engagement Editor of the youth-led indy media outlet Youngist; and a Strategic Nonviolence Trainer at the Center for the Working Poor.
Alex is a native of Denver, CO, and a graduate of Occidental College in Los Angeles, where he currently resides. He's also a lapse slam poet, fiendish house head, and serious civil resistance wonk.