Nonprofit Productivity: How to Get Sh*t Done While Wearing Many Hats
Session Type(s): Training
Starts: Thursday, Jul. 16 12:00 PM (Eastern)
Ends: Thursday, Jul. 16 1:15 PM (Eastern)
Chances are you wear a lot of hats. Many of us have to manage competing responsibilities on a daily basis, while continuing to move our missions forward. How can you measure the impact you make when you need to be making an impact in so many places? This training session will teach you how to prioritize your goals so you make real progress, instead of checking off things on a to-do list that doesn't get you anywhere. You'll learn how to clarify and prioritize what you need to get done so you can feel awesome about the work you do, make a bigger impact in your field, and make time for important things like rest and play.
Trainer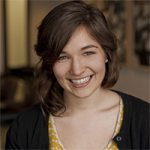 Bridgett Colling is Director of Content Marketing at See3, the digital agency for do-gooders. She helps nonprofits and social causes develop digital media strategies that help them meet their goals and speak to their target audiences. Before joining See3, she worked as a digital consultant with organizations like Chicago Ideas Week, NPR Detroit and the New Economy Initiative of Southeast Michigan.
Outside of work, she blogs, cooks, and binges on Netflix (please ask her for her thoughts on House of Cards).