Music for Black and Brown Lives
Starts: Friday, Jul. 17 9:00 AM
Ends: Friday, Jul. 17 10:15 AM
Room: 230
This panel will discuss the intricacies of succeeding as an artist and how/why people choose to make art and music that strengthens black and brown communities.
Moderator
Panelists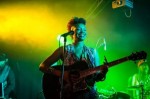 MysticBlu is a soul singer, songwriter, poet, emcee, and evolutionist.
She is originally from Minneapolis, MN and now resides in Phoenix, AZ.
MysticBlu feels she is here to bring about truth, inspiration and healing to those who embrace her words and music and through her actions in the community. Her mission is to bring about self awareness and take all a little higher.
MysticBlu has had the honor to be the opening act for artist such as:
Brandy, Jill Scott, Lupe Fiasco, Black Eye Peas, and more.
You can visit her website to learn more about this amazing artist!
Www.iammysticblu.com
Emcee and community activist Jasiri X is the creative force and artist behind the ground breaking internet news series, This Week with Jasiri X, which has garnered critical acclaim, thousands of subscribers, and millions of internet views. From the controversial viral video What if the Tea Party was Black?, to the hard hitting truth of A Song for Trayvon, Jasiri X cleverly uses Hip-Hop to provide social commentary on a variety of issues. A six time Pittsburgh Hip-Hop Award winner, Jasiri recently became the first Hip-Hop artist to receive the coveted August Wilson Center for African American Culture Fellowship. A founding member of the anti-violence group One Hood, Jasiri started the New Media Academy to teach young African-American boys how to analyze and create media for themselves.
Other sessions: Jasiri X