Master Class: Action Network
Session Type(s): Training
Training Tag(s): Master Class
Starts: Saturday, Jul. 19 3:00 PM (Eastern)
Ends: Saturday, Jul. 19 4:15 PM (Eastern)
The Master Class program is focused on the specific tools that organizers use every day, and helping intermediate users become efficient, effective power users.
Action Network is a mission-driven nonprofit organizing toolset by and for progressives. The toolset includes petitions, forms, fundraising, events, and a state-of-the-art mailer, along with unique ways to collaborate with allies. In this session – fit for new and advanced users alike – you'll learn how to use our groups tool for federated organizing and tips for using our embeddable widgets to collaborate and blow up your actions. You'll also be among the first to learn our new features, including our new full-layout widget.
Trainer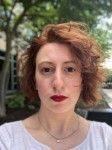 After more than a decade of working in progressive organizing, Robyn Swirling founded Works in Progress to build safer and more equitable workplaces across our movement through campaigning, researching, and providing technical assistance to progressive organizations and companies. Robyn has worked within the progressive movement as an organizer, communicator, trainer, and storyteller, including roles with the National Education Association, Action Network, Advocates for Youth, and several electoral campaigns. Robyn is committed to ending the stigma associated with women's experiences and bodies, in particular, and writes and speaks frequently regarding sexual assault, abortion, and physical manifestations of trauma.