Google Analytics: Using data to improve your website
Session Type(s): Training
Training Tag(s): Testing/Optimization
Starts: Thursday, Jul. 17 1:00 PM (Eastern)
Ends: Thursday, Jul. 17 2:15 PM (Eastern)
Say goodbye to being overwhelmed by the information in Google Analytics. In this session, we'll cover just the data points that are most applicable to your nonprofit's website. We'll discuss what each data point is actually telling us about the areas of our website that need improving. Armed with our new data know-how, we'll walk through specific ideas you can use to start improving your own site. (And to keep all of us focused on the data that matters after the session ends, you'll receive a link to a dashboard template that you can save and use in your own Google Analytics account.)
Trainer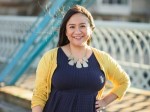 I'm Yesenia Sotelo, and I'm a digital skills trainer and web developer.
I take complex ideas, tools and projects and make them easy to understand.
I love working with nonprofit communicators, marketers and fundraisers.
I teach digital skills, provide digital strategy coaching and build websites for people who are ready to be the smart, confident leaders of the nonprofit world.
Because if you want real results, you have to have real skills.
It's how smart informed decision-makers get promoted to leadership positions.